The 2010's edition of PREZIOSA presents three masters of research jewellery: 3 artists, 3 different nationalities, a geographical line leading from North to South: Netherlands, Switzerland, Italy.
The three artists have been asked to select a younger artist to set up a dialogue with : the exhibition is thus driven by a "spirit of dialogue". Not merely "talking with" but "thinking with", "being bound by thought": a dialogue based on the desire to understand and know the other, and to propose an approach to the reality of the research jewel through a spirit of discovery.
Each of the six artists will offer a broad and inclusive presentation of his own work, and develop dialogues between different generations, languages and contents. This relationship of dialogue will make it possible to develop broader reflections on the creative reality of the jewel, its history and its present.
The public will be able to approach the work of the six artists through the various phases of their work, listening to the conversations and reflections triggered by the encounters, and also by reading the "dialogue" in the works themselves. The public will be provided with the necessary information, while also leaving room for a personal interpretation and, above all, an emotional engagement.
Artists:

Giampaolo Babetto (Padua, Italy, 1947)
Babetto's work appears as a tireless and rigorous analytic investigation of form, plumbed in all its expressive and compositional possibilities. Geometry was the starting point for the development of a constructive approach to jewellery conceived as architecture, jewels that can be read in all their parts and that emanate a dense formal tension. Minimalism, architecture, but also the painting of Pontormo are just some of the sources that have nourished Babetto's complex language, in which the quest for form is melded with technical expertise, always taken to extremes to pursue an ever-vital spirit of experimentation.
The artist chosen by Giampaolo Babetto is Helen Britton
Giampaolo BABETTO – ring -
Helen BRITTON – 'burning garden' brooch 2005 – silver, glass, paint, plastics
Johanna Dahm (Basel, CH, 1947)
… From an initial interest in serial production, on the keynote of the democratisation of the jewel in the mid 70s, in the 80s the artist moved on to investigating the jewel as event, elaborating installations and works in which there is an extensive use of light, exploited to dematerialise the object and turn it into a visible but not tangible sign on the body. The latest phase of her work is characterised by the return to the material quality of the jewel, to its links with earth and fire. The Ashanti and Fast Ashanti series consist of works conceived through a personal elaboration of traditional casting techniques, where the a priori control becomes very limited, and the gold matter is charged with a vigorous physical sensuality.  
The artist chosen by Johanna Dahm is Andi Gut
Johanna Dahm ring – Andi Gut ring
Ruudt Peters (Naaldwijk, netherlands, 1950)
In his research the jewel becomes part of a system of representation in which religions, philosophies, symbols and alchemy, combined with encounters and the suggestions of other cultures experienced during his travels, are melded, mingled and reworked, going to make up the prime matter of his works.
His jewels are organised into 'families' linked to a specific reference, such as for example the stage of an alchemical process for Iosis (2002) or the Kabbalah for Sefiroth (2006), and to the materials used to make them as in Lapis (1997), where the mineral powders are reworked to create a new material. Nevertheless, an overview of his work enables us to grasp the consistency of a process that has conceived the jewel as a condensate of emotions and suggestions, an object imbued with an archaic rituality while being enunciated in an idiom that is entirely contemporary.
The artist chosen by Ruudt Peters is Evert Nijland
Ruudt PETERS – Pendant – 'Lingam 5′ 2008 – silver, galvanized silver, wood, rubber… -
Evert NIJLAND -necklace porcelain, flock


Helen Britton (Lithgow, Australia, 1966)
Britton's work evolves from mixing, layering, combination and assembly, actions presided over by constant supervision which gives order to the apparent chaos. The creative process passes through phases that intersect: from attentive observation of reality she moves on to focus on particular details, single elements that are collected together and carefully sifted. Thus is created what the artist calls an energy circuit, which starts with search and selection and is completed by restitution of the object to the flow through its exhibition on the body.
Andi Gut (Zug, Switzerland, 1971)
In the works of the early 90s Andi Gut concentrated on the special relationship between the jewel and the body, both by inserting real corporeal elements (teeth, nails) and by reproducing them in materials of medical origin, such as dental porcelain. Following this, his meditation shifted towards the dualistic relationship between the naturalness of form and the artificiality of the matter it is made from. Before the jewels of Andi Gut the observer is taken by a sort of rapture, in which anxiety and captivation come together.
Evert Nijland (Oldenzaal, The Netherlands, 1971)
Active since 1997, Evert Nijland has pursued a consistent endeavour of re-elaboration, transformation and new interpretation of sources of inspiration linked to the past history of art: Renaissance panels, Baroque paintings, the theme of the garland, the city of Venice. The material quality of a pictorial detail, its special luminosity, are restored to life, translated into the dimension of the jewel through a calibrated stratification of embroidered fabrics juxtaposed with stones, silver, porcelain and very often glass. In his most recent works glass, declined in its various expressive possibilities, is used in combination with silk and flock. The most strikingly three-dimensional aspect appears to be linked to a sensual accentuation of forms.
PREZIOSA 2010
Leopoldine old Cloister (Chiostro dell'ex Convento delle Leopoldine – Firenze)
Torquato Tasso Square
Florence Italy
E-Mail: preziosa@artiorafe.it)(informations également sur la page de Klimt02)
"Lucca preziosa" nasce da una idea di Le Arti Orafe, scuola di oreficeria e galleria d'arte a Firenze. Il Comune di Lucca ha recepito e fatto suo quel progetto, rendendone possibile la realizzazione. A partire dagli anni '50 si è diffuso un nuovo approccio al gioiello come libera espressione artistica, aperta ad interpretazioni e sperimentazioni di forme, materiali e tecniche. Negli ultimi quaranta anni il gioiello di ricerca è stato presentato in mostre a tema, rassegne annuali, sezioni di fiere di settore, gallerie specializzate, principalmente in Europa centrale ed in Gran Bretagna, ed è entrato a far parte delle collezioni museali come quelle del Victoria and Albert Museum di Londra; della Pinakothek der Moderne di Monaco, del Musée des arts décoratifis di Parigi…. In Europa le ultime grandi mostre di gioiello d'arte risalgono rispettivamente al 1988, in Svizzera, con il titolo « Biennale del gioiello d'arte contemporaneo » tenutasi a Lugano alla Villa Malpensata; al 1989 in Germania, « ORNAMENTA, Internationale Schmuckkunst », a Pforzheim; al 2001 a Firenze, Museo degli Argenti, "L'arte del gioiello e il gioiello d'artista dal novecento a oggi ». In Italia le occasioni espositive sono state circoscritte, oppure dedicate ad affermati pittori e scultori che occasionalmente si sono occupati di gioielli (La rassegna Aurea, 1972-1974-1976-1979, Palazzo Strozzi, Firenze; L'arte del gioiello ed il gioiello d'artista dal '900 ad oggi, Palazzo Pitti, Firenze, 2001; Immaginazione Aurea, Ancona, 2001). L'evento Lucca Preziosa contribuisce a riempire un vuoto di cui si avverte più o meno consapevolmente l'incongruenza.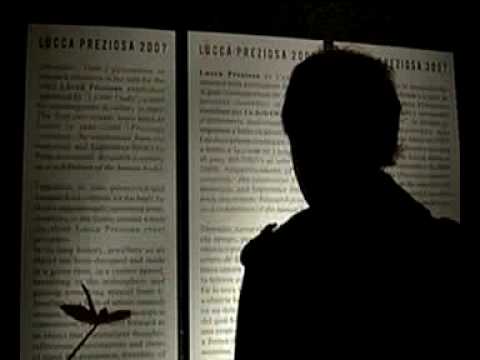 video Preziosa 2008