What attracts me the most in Masako Onodera's works is their repulsiveness, the fine line between desire and disgust, as if they were able to evoke ancestral feelings…
"…My work is the apparatus to awake viewers and wearers of their own bodies and evanescent life. In my work, I present grotesque, and peculiar, but oddly appealing simulated body part of appendages, representing rampant, uncontrolled growth and decay. They are both sensual and strange, and suggest an experience of body that is alteered by the tactile and visual characteristics of the object.
The color pink has multiple associations – flesh, femininity, youth, sex and fantasy. As a result I employ pink in my work to present the viewer with extremes; my work is comfortable and approaching, and uncomfortable and denial…"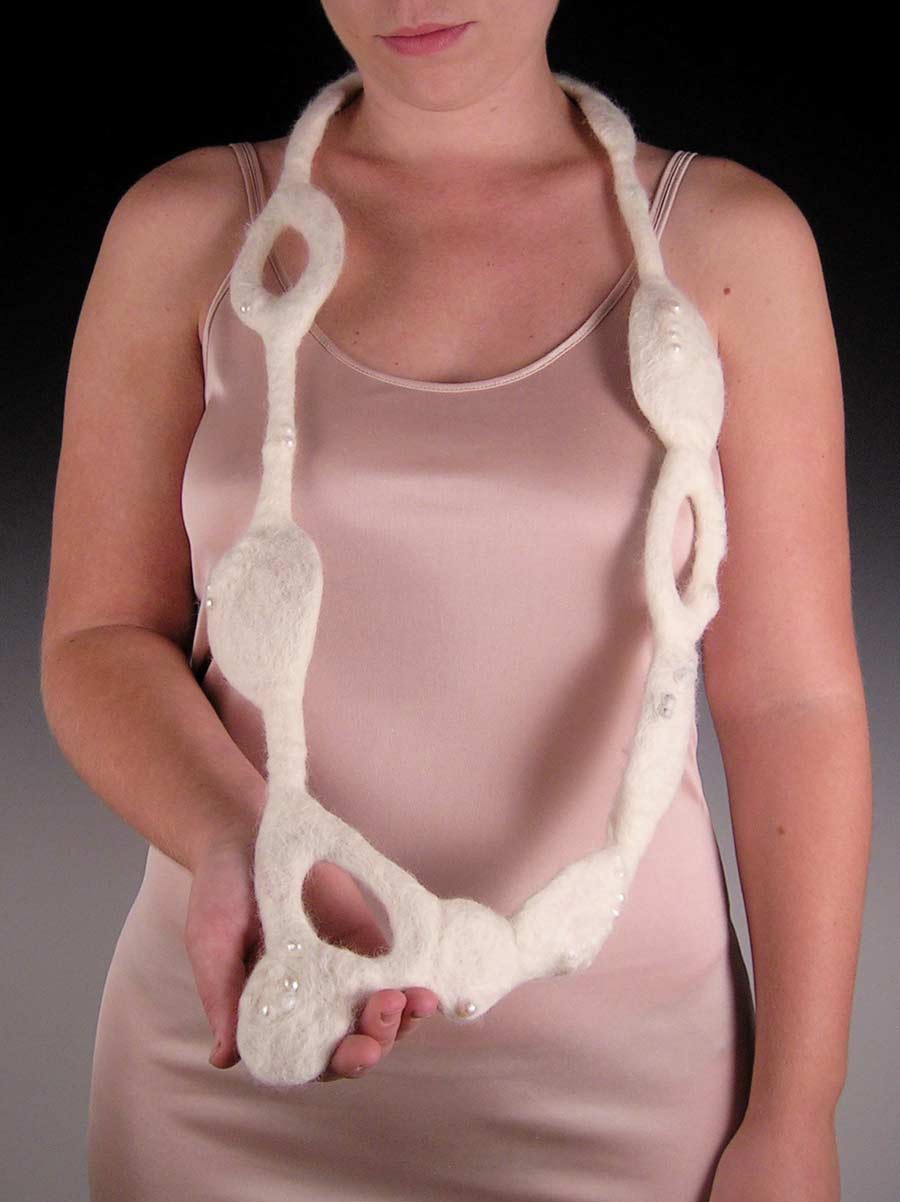 « Throttle »                                                           « Eruption » Cuff
« I lavori di Masako Onodera, …. sono infatti dei gioielli scultura, delle protuberanze organiche in lana e plastica che si ha la tentazione di toccare, per quanto l'aspetto sia attraente/repellente. » (blog  comeunagazzaladra)
J'avouerais que la première fois que j'ai vu les créations de Masako Onodera, feuilletant le livre « 500 plastic jewelry designs … » (où figure le fameux « Eruption necklace ») par téléphone avec Catherine Jacquet, autant elle, elle adorait, autant moi je détestais …. et puis …. à force de les voir et revoir, je suis passée par l'étape « intriguée », puis « envie de toucher » (étape/envie qui persiste toujours, et qui est une constante avec toute cette vague de bijoux en silicone …. ), et maintenant j'aime définitivement, jusqu'au point où il FAUT que je m'en achète un !
(BESOIN de le voir de près, de le TOUCHER !)

Masako ONODERA – Eruption Necklace
BOOK : 
« 500 plastic jewelry designs …« – Marthe Le Van – Lark book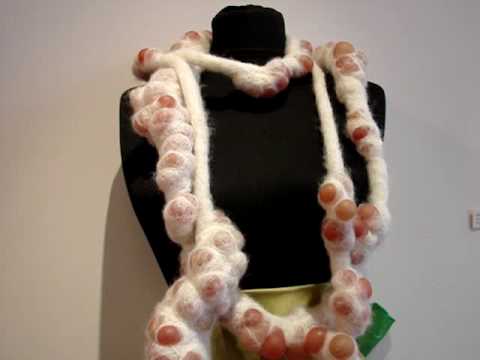 Video walk through of the FIBERS EXPANDED exhibit at Luke & Eloy Gallery,…