Diane Falkenhagen, découverte sur le site de METALinclinations
(voir article : découverte(s) on METALinclinations – APPEL à CANDIDATURE / CALL for ENTRIES pour METALinclinations2 – Deadline 18 Juill. 2010
« Diane is best known for her fabricated, one-of-a-kind jewelry.  Her mixed media compositions often combine characteristic pictorial imagery – invented or borrowed from historical sources – with fabricated metal forms and a diverse range of art media. Her work is an unconventional marriage of material and content that references a myriad of interests including:  memory, metaphor, figuration, romanticism, historical ornament, art history and iconography.«
un travail merveilleux, qui me rappelle les broches de l'époque Victorienne : peut-être dû au choix de reproduction de scènes « antiques ». L'arrière est aussi beau que le devant …..
« I am intrigued by the psychological power of pictures.
I am enchanted by symbolism, allegory and metaphor.
I am seduced by beautiful, iconic images.
I am mesmerized by the picturesque.

In my one-of-a-kind, mixed media art jewelry I combine two-dimensional pictorial space and three dimensional jewelry forms.  Instead of mounted gemstones, pictures form the central visual and conceptual elements of my fabricated brooches, lockets and neckpieces.
My diminutive pictorial expressions are either invented or borrowed from historical sources.  I use a variety of art materials and techniques to create the images which are chosen for their emotional and intellectual impact as well as their aesthetic value.  
The fabricated jewelry forms that support and contain the images are contemporary yet suggestive of historical styles of ornament.  They are primarily fabricated from metal, but often incorporate more eclectic materials.  They are characterized by strong symmetry and bold scale, and sometimes function much like a shadow box or picture frame.
My intent is for each piece to express a strong underlying emotion or idea and to evoke a sense of preciousness derived from its intimate scale, richness of materials, attention to detail, and heirloom-quality craftsmanship. » (Diane Falkenhagen)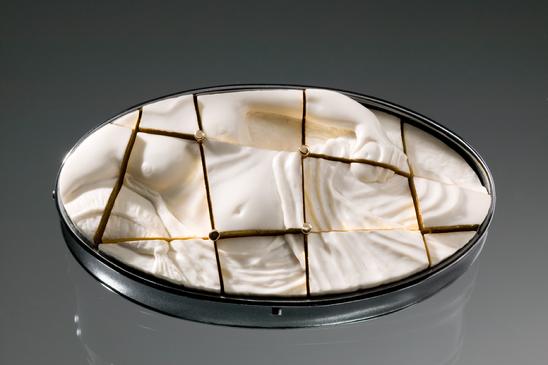 Diane Falkenhagen – « After Canova's Paulina » Brooch/Pendant; 2010 – Oxidized Sterling Silver, Carved Corian, 14Kt Gold, 23 Kt Gold Leaf

Diane Falkenhagen- « After Canova's Paulina » Brooch/Pendant

Diane Falkenhagen- « Seascape Brooch; » 2007 (and back) – 24Kt Gold Plate over Brass, Sterling Silver, Mixed Media Image on Sterling Silver, 14Kt Gold
Diane Falkenhagen- « Red Upholstery Brooch; » 2008 – Sterling silver, red Corian
Diane Falkenhagen- « Rococo Landscape » Brooch 2007 – Sterling Silver, Mixed Media Image on Sterling Silver, 14Kt Gold, 23 Kt Gold Leaf

Diane Falkenhagen- « Double Hidden Portrait; » Brooch. 2007 – Sterling Silver, Mixed Media Image on Silver, 24Kt Gold Plate
(j'aime les « portraits » cachés par le « cadre »….. ils vous regardent comme à travers un moucharabieh …. mystère ….)

Diane Falkenhagen- « Folly » Brooch/Pendant – Mixed Media Image on Polymer Clay, Pigmented Hardwax, 24Kt Gold Plate on Copper, Mother of Pearl