Masters of Fine Arts, Jewelry/Metals – MFA exhibition - 2006
(ASU- Arizona State University-School of Art)

au début ça commence « bien », « classique » je dirais … et puis, petit à petit, un humour grinçant s'immisce, et ça dégénère ……… et ça devient délectable !
« My work revolves around how women of today are influenced by society's concept of "ideal beauty" as portrayed by the media.  Advertisements, commercials, stores, magazines, and television shows aim to make women believe that by using or wearing certain products they will come closer to "physical perfection".  The jewelry and metalwork I create helps the wearer become closer to this ideal beauty, but also points to the humor in contemporary American society's definition of perfection.  The objects I make often contain prosthetics or embellishments that can be applied to or worn on the body such as make-up or fingernails.  By turning make-up containers into wearable objects, the wearer is able to conveniently yet obsessively look in the mirror, reapply lipstick, blush, or powder numerous times in a day.  The burden of wearing such large or uncomfortable objects on one's body parallels the onerous practice of reaching physical perfection.
 Certain people may be persuaded that in order to reach a particular status or to be accepted and considered beautiful by society, they need outrageous and at times physically painful surgeries, prosthetics, and injections.  Under select circumstances, sadly, this may be true.  Objects such as silver and gold teeth, fake eyelashes, and Botox compacts comment on these more invasive practices.  There are a multitude of contemporary advertisements for teeth veneers, eyelash enhancers, and facial injections that make people believe these prosthetics and procedures are vital life necessities.
Historically and currently, just as physical beauty can show or determine a person's social status and power, so can jewelry.  Gold, jewels, and pearls can sometimes show a person's wealth and status.  In order to signify that the pieces are valuable and precious, I use mediums such as silver, gold, pearls, and lustrous fabrics. By the use of these materials my pieces reference historical metalwork, specifically silver toiletry and make-up items.   Although my jewelry has humorous undertones and is not always practical and functional, it maintains its beauty and value, a quality that many women deem important in life. » (Jill Baker Gower)
Jill Baker Gower

Lipstick Necklace, sterling silver; mirror; lipstick, 2004 (close & open)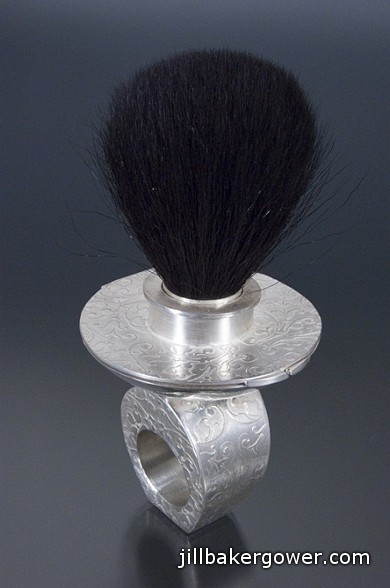 Jill Baker Gower

Blush Ring; close, sterling silver; mirror; brush; blush, 2005
Jill Baker Gower

Blush Ring; displayed open, sterling silver; mirror; brush; blush, 2005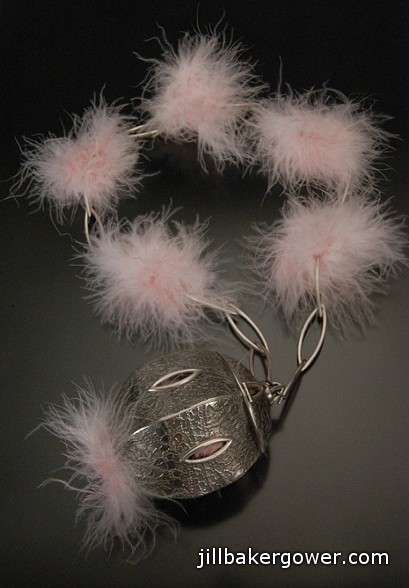 Jill Baker Gower

– Aphrodisiac Rose Pomander, pewter; sterling silver; feathers; rose oil, 2006
'Add Some Sparkle to that Smile' -  Detail of Teeth, MDF; acrylic case; jewelry boxes; satin pillows; sterling silver; 18K;24K gold plate; CZ; enamel paint, 2005

Botox Injection Compact, sterling silver; brass; syringe; vial, 2006
Dans la continuité de cette idée, et de cet esprit, elle a participé en octobre 2008 à l'exposition « Girls Play Games » à la Facere Gallery

Jill Baker Gower - 'Glamour Gem Locket Brooch'- argentium sterling silver, feather boa, magnifying mirror, brass,  plastic gem
 Jill Baker Gower - 'Glamour Gem Necklace' – argentium sterling silver, vintage glass, plastic gem.

Jill Baker Gower – 'Pink Roller Necklace' – argentium sterling silver , foam hair rollers
Jill Baker Gower - 'Pink Roller Brooch' – argentium sterling silver, fine silver, foam hair curler,  stainless steel.