Lydia Hirte - Schmuck mit skulpturalen Qualitäten 
même ne parlant pas allemand, ça je comprends …. et j'approuve !
A large number of my works are currently on show at the Holland Paper Biennale 2010, Rijswijk (Netherlands) – 08 June – 12 September 2010
www.hollandpapierbiennale.nl

Lydia Hirte – 'Schmuck mit skulpturalen Qualitäten ' – 2004-2005
The geometric basic forms are clamped or stuck together. They are not glued.

1997
« My central concern is to detect and fix clear adorning shapes in connection with a change in the characteristics of the material of the fine cardboard I use.  I search and provoke the resistance of the material. This is the reason why my works are basically characterised by conditions of clamping, strengthening and springing.«

'sculptures de papier' – 2007
« An old-fashioned radiator, the bellows of an accordion, döner kebab on a skewer but also voluptuous shellfish, brightly coloured miniatur folded paperchains, peculiar swings – on gossamer strings. The jewellery with a 'twist' by Lydia Hirte cannot be pinned down to just one definition.
Frozen movements
The pendants of German artist Lydia Hirte … look misleadingly simple. What is more, it is impossible on the basis of a picture alone to estimate the scale of the little treasure bundles on her necklaces. The clean forms and colours conceal the effort and intensity involved in getting these trinkets into their finished state. however small the definitive ornaments may be, they put up quite a struggle when being forced into their straightjacktets.
…
Lydia Hirte declares her love of paper through the directness and tangibility of the material itself. The paper responds immediately to her touch; she feels the effect her fingers induce. In her quest for a strong image she allows herself to be guided by the materials's properties.
…
Because of the contortions in the pendants, their outward appearance is far from static. When the object has been fully torqued, it still looks loose and pliable. This is the power of Hirte's handiwork.« (Frank van der Ploeg (catalogue of the Holland Paper Biennale 2010, Rijswijk, pp.53-54))

Sculptures  Jewellery  Paper – 2006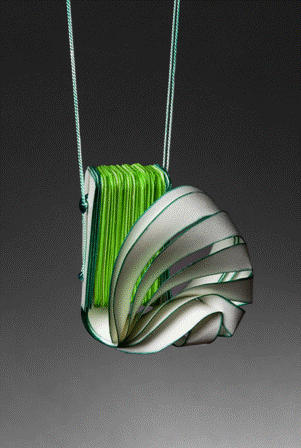 exhibited late last year (2009) at the prestigious Triennale Design Museum in Milan. The show was titled Paper Jewels and it was an all-embracing exhibition dedicated to jewellery made of paper from 60 designers all over the world.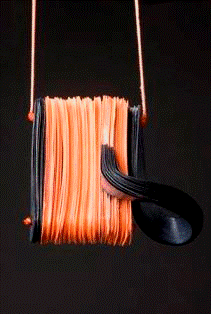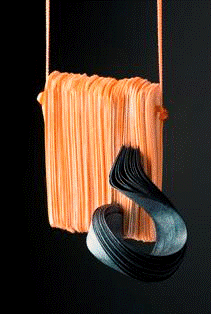 Sculptures  Jewellery  Paper – 2008

1996

Lydia Hirte -  2004-2005