Contemporary jewelleries made by young artists and students from ESAD de Strasbourg (France)
Exhibition curators: Sophie Hanagarth and Florence Lehmann
Date: 17-19 March 2011
Opening: 18 March 2011, 18:00
A l'occasion de Schmuck' 11, dans le cadre de la Foire internationale de l'Artisanat de Munich, l'atelier Bijou de l'Ecole supérieure des Arts décoratifs de Strasbourg s'inscrit dans son parcours OFF et s'expose à l'Institut français de Munich. L'atelier Bijou de l'ESAD de Strasbourg est le seul existant au sein d'une école d'art en France. C'est un espace d'exploration et de réflexion sur la pratique du bijou, sa relation avec le corps et son inscription dans le champ de l'art. Il est associé aux ateliers de bois, céramique, livre, textile, métal et verre. La proximité de ces lieux de recherche et de création conduit à une production d'objets délibérément polymorphes. Pour illustrer ces recherches, étudiants et artistes issus de l'École s'emparent des espaces de l'Institut pour proposer des expériences visuelles, mais également tactiles.
Artistes:
Cécile Donche-Gay, Christophe Marguier, Claire Baloge, Joanne Grimonprez, Marthe Lebasque, Carole Deltenre, Lucie St Leu, Marie Pendaries, Hector Lasso, Emilie Losch, Annie Sibert, Pauline Bernard, Sébastien Carré, Clara Denidet, Maxime Leblanc, Amélie Nivet, Alix Tran, Marine Dominiczak, Chloé Durand, Camille Fischer, Emeline Galhac, Maïko Shinagawa, Julia Moroge, Marion Delarue,  Yiumsiri Vatanapindu.
Shu Lin Wu -  earrings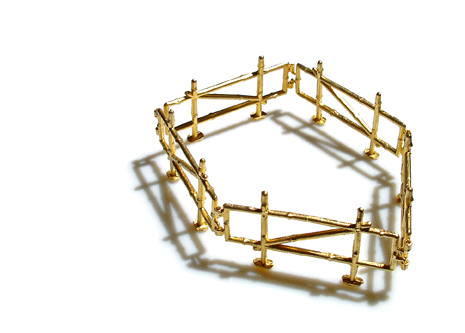 Christophe Marguier 'à nos enfances' – argent massif flashé or-2005

Cecile Donche-Gay (ESAD Strasbourg) – paniers de doigt – bague- 2005 – argent, fer tressé
*Französisches Kulturinstitut
Institut Français de Munich , Salon bleu
Kaulbachstraße 13
München, Germany
Tel: 089 28 66 28 36
Donnerstag, 17. März, 14 Uhr – 19 Uhr
Freitag, 18. bis Sonntag, 20. März, 10 Uhr-19 Uhr
Vernissage am Freitag, 18. März, 18 Uhr
*Ecole Supérieure des Arts Decoratifs, ESAD, Strasbourg (FR)