Voici les dernières créations de Tiffany Rowe connue sous la marque de « crea-tiff » : COLLECTION EPHEMERE
Biologiste de formation, Tiffany Rowe a toujours admiré la beauté parfaite de la nature des simples fruits et légumes qui nous entourent et se retrouvent souvent dans nos assiettes. Habitant à Genève, Tiffany est aussi entourée par le superflu et l'argent. Vient alors à son esprit un projet audacieux : créer des parures «d'un moment», très loin de la consommation de masse et des produits de luxe. Voilà que la couleur de baies rouge vif, la douceur nacrée de champignons ou la texture intrigante de tripes (!!) sont détournées pour confectionner des colliers-scupltures, largement inspirés des collerettes du 16ème siècle. Ces bijoux éphémères ne peuvent pas être vendus, ni même être exposés, ils ne peuvent qu'être admirés le temps d'une prise de vue photographique. Tiffany Rowe rend ainsi hommage à la beauté furtive et éclatante d'un instant avec des ingrédients frais achetés auprès du maraîcher, fleuriste et boucher. Une ode aux choses simples, au temps suspendu et un regard malicieux porté sur la mode.
(Photography © José Medina Molina)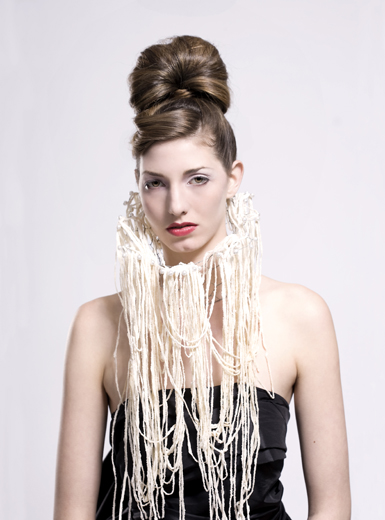 « Made with fresh sheep intestines ! »
EPHEMERAL COLLECTION
Necklaces made of roses, berries, grapes, mushrooms and even intestines and tripe… here are just some of the very unusual ingredients used for Tiffany Rowe's latest project, transition jewellery. The following paragraph explains the designer's inspiration and inner thoughts that led to these audacious creations.
« Having studied biology, I'm in constant admiration of the simple but perfect beauty of nature that surrounds us. However, living in Geneva city I'm also confronted by luxury, wealth and trivia. It's a bit of a paradox, really. Walking back from the market, I suddenly had the bold idea of creating a jewellery collection that no one could buy or own, and would only exist a short moment – sufficient to be immortalised by photography, but no longer. With fresh ingredients bought from the florist, farmer and even the butcher, I set about creating sculptural necklaces, largely inspired by 16th century portrait paintings. Wishing to steer away from current consumerism, I draped a model in silk taffeta and "constructed" the jewellery directly on her. In the manner of Oscar Wilde's character Dorian Gray, I secretly dreamed being able to suspend time, yet by the end of the afternoon the roses had withered and the fruit had dried. I rather liked the idea that this ephemeral collection could not be possessed and that all that would remain of it would be six images, memory of the odours and the pleasure I had in imagining it".