FETICHES ET AMULETTES.
Maddalena ROCCO. Ted NOTEN
« Il mito come valore apotropaico nei gioiello di Maddalena Rocco.
La riflessione che scaturisce da un pensiero prende forma nel mito corrispondente.
Gli emblemi propri della divinità diventano materia e linguaggio, colore e segno, ritmo e disequilibrio. Le immagini fortuite del disegno narrante, composte in visioni laterali, sono impresse a bulino e caricano l'immagine di valenza simbolica. La lentezza della tecnica porta ad una ulteriore scansione riflessiva, non solo in chi opera, ma anche in chi guarda e indossa.
In questo circuito dialettico per simboli il valore segnico dell'ornamento da corpo arriva a comunicare come ai primordi, quando ancora non esisteva il linguaggio verbale. Quando il feticcio proteggeva la vita di chi lo possedeva. »
Maddalena Rocco
A proposito di Ted Noten
"Is there any greater icon in the industrial world than the Mercedes-Benz?  I don't think so.  CEO's, real estate agents, small-time hustlers in the building trade, politicians, Mongolian drug dealers and Birmingham greengrocers: all around the globe they share the love for a Merc.  More than any other ornament it symbolizes success and social status.  These qualities attracted me to the Mercedes as an area for serious research."   (Ted Noten, 2006.  Gert Staal Publishers)
Ted Noten is fascinated with glamour and status symbols.  He approaches them with contagious delight and a mischievous sense of humor devoid of condescending derision and political correctness.  His "serious research" of the Merc has led to a collection of brooches made out of a cut-up Mercedes body.  He dutifully presented his idea to the Daimler-Chrysler company, who were not amused…
Ted Noten   Mercedes …..
Ted Noten – serie of brooches which are made from steel parts cut from the body of a Mercedes-Benz car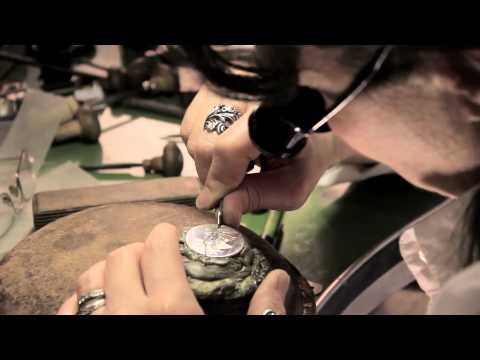 Design-e-Space 6 bis rue du Forez, 75003 Paris (France)
Tel. France: 33 175 500 530
e-mail: info@design-e-space.com