SCHMUCK 2014 – Munich – 12-18 Mars 2014
Staring : in HINDSIGHT / SUNY NP METAL

Vernissage 14 Mars, 19 Uhr
STARING: The State University of New York at New Paltz
THE METAL PROGRAM AT THE STATE UNIVERSITY OF NEW YORK AT NEW PALTZ IN COOPERATION WITH DIE NEUE SAMMLUNG – THE INTERNATIONAL DESIGN MUSEUM MUNICH
Designed in response to the physical space that houses the exhibition, in Staring is an exercise in looking, finding, seeing and knowing.
This gallery, informally referred to as 'under the stairs', is an interstitial space – formed by the galleries that surround it. It is a negative of a positive, the leftover from a functional form. It lies in-between, forming the way one considers what lies on the other side of the concrete divide, what is revealed and what is hidden. As the risers and runners of multiple staircases surround the viewer, form becomes rhythmic, linear texture, closing in underfoot and overhead. In this space one is simultaneously astonished, disoriented, and mystified. While not originally conceived as an exhibition space, through imaginative thinking it became so.
As a marginal space it is not confined by traditional boundaries or conceptions. This notion of working the margin is akin to the creative strategies taught at New Paltz. Students are expected to engage the traditions of jewelry and hollowware, working within the field's "architecture", but not to mimic it; in dialogue through making they question function, value, and relevance to our somatic, conceptual and incorporeal experience. We look backward and forward at the same time, challenging and promoting the practice of making.
Provoked by the space itself, we ask the viewer to consider what it means to be 'under the stairs'. In a domestic setting it is a space to keep things that are only used occasionally, or perhaps forgotten. It is a psychic space, the space of the Odradek, a space where fear of the unknown is manifested. Within this space discoveries are made, surprises can be found, and occasionally we lose even ourselves.

Talk on 16 March, 11 Uhr : Pravu Mazumdar: Understanding Surfaces. On Jewellery and Identity.
Pinakothek der Moderne. www.die-neue-sammlung.de
Human surfaces are hybrid objects involving biological and cultural elements like dress, makeup, jewellery, gait, skin, posture, voice. Contemporary societies manifest not only surfaces of products, but also human surfaces functioning as 'packaging' and emitting discourses on interiority that place humans within limits and define their individuality.
However, the surfaces are not only readable. They are also produced on a daily basis, not only by the individuals themselves or the global beauty industry at large, but also a whole political machinery of identity, gleaning certain constant, measurable and recognisable traits of individuality from the surface discourses, documenting them in passports and identity cards and locking in modern individuals within the shell of their identity. Modern jewellery – in its contemporary, critical manifestations and its inherent tendency of breaching tradition – can break open the shell of identity and involve individuals in an open play of enhancement and change of masks. It can indeed be understood as a means of counteracting the pressure towards identity in daily life in modern societies.
Such ideas will be presented with examples and images from the area of contemporary jewellery art.
Munich | Lecture | Sunday, March 16, 2014 | 11:00 p.m. | Tel. +49 89 2727250, +49 89 23805360
Ernst von Siemens-Auditorium, Pinakothek der Moderne, Barerstrasse 40, Munich | Lecture in English | Admission free
Participants : Aliyah Gold — Allison Ulmer – Allyson Bone — Amy Williams — Anna Drexel — Aran Galligan — Cameron Andersen — Celine Browning – David Choi – Eunjae Baek — Francesca Urciuoli — Hyun Kyung Park — John Huckins — Kate Mess — Katherine Wilson — Kathleen Rearick — Kim Zitzow – Lena Grabher — Lynn Batchelder — Maia Leppo  — Martin Anderson — Melissa Tolar – Michael O'Neill — Missy Graff – Nikky Bergman — Qu Mengnan — Sara Glaberson — Sarah Abramson — Steven Gordon Holman
MFA Candidate Steven Gordon Holman : Steven's Work has been selected to compete in the international design competition TALENTE – at Schmuck 2014 in Munich
Lynn Batchelder,  Necklace: Sawing/Drawing, 2013 – Steel 
Steven Gordon Holman – Necklace: To Segment and Join, 2013
–
Mule deer antlers, nylon paracord, steel cabled
Martin Anderson
Michael O'Neill

« Flood »  – 2010  Bracelet  Silver; Pyrex; Driftwood
Aliyah Gold -   Moth Brooch Sterling silver, Glass, Gold leaf – « Infestations » 2013
2 artists Pieces :
Left and Right: Martin Anderson. Necklace: Black & Yellow Necklace, 2012.
Glazed porcelain, sterling silver, silk.
Center:

David Choi

. Bracelet & Knotted Brooches: Untitled, 2013.
Steel, silver.
Pre & post-production styling: Steven Gordon Holman & Anna Hammer.
Camera: Kim Zitzow. Model: Mengzi.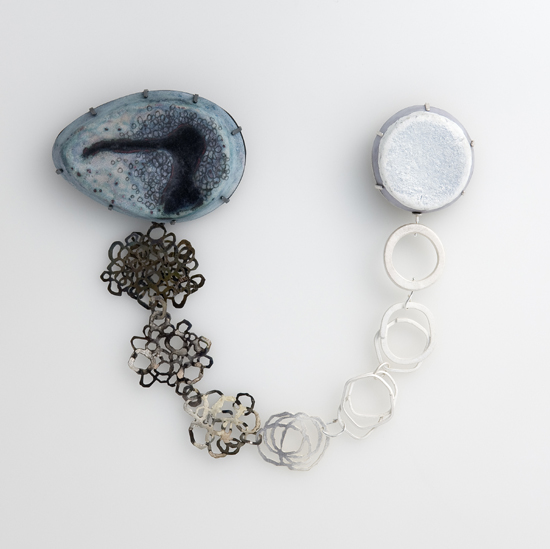 Eunjae Baek
 2010-12 thesis work
Hyun Kyung Park

- 3 brooches « Architexture »  Huguenot Street – Deyo House 3 Brooches | 2012 | Plastic, Paint, Sterling Silver, Steel
Die Neue Sammlung – The International Design Museum Munich
Danner-Rotunde
Barer Straße 40
Pinakothek der Moderne
80333 München
0PENING HOURS TUESDAY – SUNDAY 10:00 – 18:00
THURSDAY 10:00 – 20:00