THE AFTER JOYA EFFECTS- 6000 FRAGMENTS / THE FLOATING ISLANDS
Opening: 22 May 2015 at 19.00′
Lecture by Yannick Mur (guest artist of Joya Barcelona 2014) Saturday 23/5/15 at 13.00′
« The after Joya Effect" * is an Exhibition that took place for the first time at Popeye loves Olive – Art Space, that aimed to the interaction and the transformation of individuality to collaboration, diversity to unification and exchange to sharing. It was inspired by the jewelry exchange inProject01 that held in Joya 2013.
From 23/04/2014 – 30/06/2014, the project evolved in five solo exhibitions of Greek artists and one group exhibition of thirty five International artists.
This year, every participating artist will create a unique (unreleased) piece, inspired by the "6000 Fragments – The Floating Islands" project.
During the event, once again, the public will vote for their favorite artist, who will be invited for a solo exhibition at Popeye loves Olive.
*
The idea is to promote the Joya Project in Greece (artists selected by "Le Department" and exhibited in Joya Exhibition in October 2013 – 2014).
6000 Fragments / The Floating Islands
:In Greece, there are 6,000 islands, islets and rocks. These holy seascapes connect spiritually, mentally and materially their inhabitants through the images that feed the senses.The second edition of "The after Joya effect" is inspired by the uniqueness of this physical experience in 6000 fragments.The Second Edition will be held between 22/05/15 – 20/06/2015.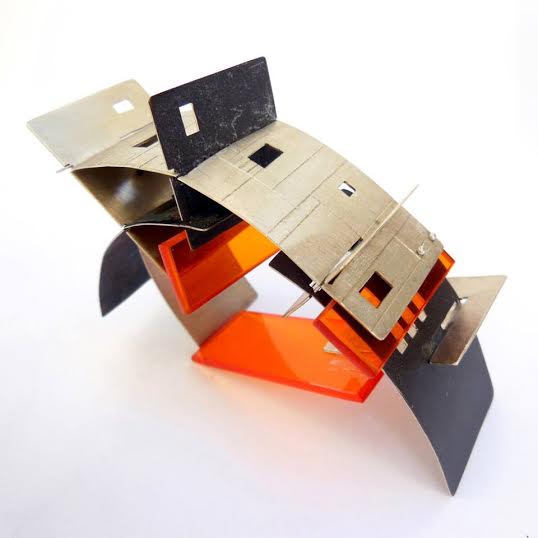 Vasia Pachi
Artists: Akis Goumas –  Alina Carp –  Amira Jalet –  Angela Ciobanu — Christina Karakalpaki – Dora Haralambaki –  Edith Bellod — Elin Flognman –  Erato Kouloubi –  Eunmi Kwon –  Florence Croisier — George Giannoutsos — Gigi Mariani — Inbar Shahak — Irene Palomar — Isabelle Busnel — Ismini Pachi – Jee Hye Kwon — Kalliope Theodoropoulou — Liana Pattihis — Mala Siamptani — Mihai Básoiu — Niki Stylianou — Steffi Götze — Vasia Pachi –  Yannick Mur –  Zeta Tsermou
Mihai Basoiu  – frament – » Atol » Recycled polypropylene, leather, vinyl, screws,bolts, metal-plastic chain. « Based upon the Legend of Bahamut, the giant fish that holds the universe and travels through the Greek islands, I was fascinated by the game of scale and created an atol one could wear around his neck. And maybe on this very island someone sits on the shore wearing another island around his neck. »
Mihai Basoiu – Atol Recycled polypropylene, leather, vinyl, screws, bolts, metal-plastic chain.
Dora Haralambaki « fragment »  « Crete » – Paper pulp, macramé, weaving, silk threads, acrylic, porcelain « The women's craft weaving, in the island of Crete, was one of the major export trading goods. What I want to capture in my piece is my childhood memories: the red color, the loom, the women's introversion, the natural dyes, the noise when they were weaving… »
Ismini Pachi - Midnight Summer Dream – Iron, Pvc, Monofilament, Magnets « The starry sky, the aquatic landscape, the underwater organisms: all the elements that, in my opinion, define Greek islands the best. In this work I intend to create a commemorative collage, composed by the objects-carriers of the sense derived from summer scenery »
Christina Karakalpaki - The rock – Aluminum, silver
« I fly high, around 6000ft above land. How much beauty can be contained in these natural sculptures that float in the sea? It's like some divine entity has carefully placed them there to be admired. Sketches of brown and blue with strokes of white candy. In an attempt to capture this scenery, I created my own island, something small to touch. Is it enough? I have a craving feeling to trigger the senses, so I cut it in smaller pieces. I need to play. I deconstruct my island and I recompose it differently. Again and again. And I travel. Continuously… »
 Akis Goumas – The journey.. Silver, copper, thread, pigments
« In my recent body of work I seek the relationship between memories and self-awareness. A journey to Ithaca. Remnants of feelings, fragments of images, small findings, experiences of time introduce the elements of this weaving procedure. Dry landscapes, bright sun light, clear blue seas, white Cycladic walls compose the layers of this fresco. Aegean culture lies between myth and reality. »
Left: Gigi Mariani  BRICKS ring – Silver, 18kt yellow gold, niello, patina. –
« I created these little bricks, as a reference to the 6000 islands, which individually may seem vulnerable, but together they form a Single entity, a Force that which allows to each other to survive. »
Right: Angela Ciobanu  « 40 seconds less »  585 gold, recycled silk paper, saw blades
« We relate to the world that surrounds us through senses, our « windows to the soul ». The ancient Greek philosophers named five yet our perception is endowed with far more. Apparently, when we are old we lose 40 seconds at every 3 minutes that we perceive. My work is about the images that could have been seen, the sounds that could have been heard, the touch of the sand, the smell and taste of the sea that could have, but never was, felt in 40 seconds that were lost. It is about 40 broken moments suspended in time. »
6000 Fragments – The Floating Islands.  - Irene Palomar Ring: White Greek Islands, 2015 Plastic thermoformed, 925 silver  Photo by: Damiàn Wasser
Inbar Shahak – « Weaver wave » Silk, tie dye colors, silver thread.
« I chose textile as the language of the silent woman by the name Arachne according to a Greek myth. Shadow folding, is an origami fabric folding technique that uses the ritual stitch, in a circle repetitive shape, as the endless map of the Greek islands, with no beginning or end »