SOFA Chicago  
2016 Special Exhibits :  Art and Wine  Gioielli in Fermento
Inaugurazione – VIP Admission opening : Giovedì 3 novembre alle ore 18
La mostra prosegue negli orari di apertura della fiera fino al 6 Novembre.
Gioielli in Fermento is an international exhibition project and award for contemporary studio jewelry. Starting from the landscapes of Italy in the winemaking region of Emilian hills, it opens its borders, inviting established and emerging artists from every country to express their relation with the wine world. Inspiration, dedication, experience, research, innovation, observation, choice, challenge: these are all elements of the creative approach that we can use to focus both on the activities of a jewellery artist or those of a winemaker. Both a piece of jewellery or a sip of wine are evocative of the individual interpretation of the raw material chosen by their maker. In both cases, the aim is turning the natural into something precious and unique.
Since 2011, six editions including more than 300 artists and their works have been presented under the selection of an international board of advisors in the field, with the kind collaboration of AGC Italian Contemporary Jewelry Association, Charon Kransen Arts, Klimt02 network, Joya Barcelona and Torre Fornello Winery.
A collection of work from the 2016 edition with a selected number of iconic pieces from previous editions will be presented in this Special Exhibit.
Presented by Gioielli in Fermento, Ziano Piacentino, Italy; curated by Eliana Negroni, curator, Gioielli in Fermento.
I would like to tell here all my admiration for the energy and all the efforts & work done by Eliana Negro,i ! APPLAUSE !!!
 Autori in mostra | Exhibiting artists :
Susanna Baldacci — Maura Biamonti — Alina Carp — Sébastien Carré — Corrado De Meo — Clara Del Papa — Maria Rosa Franzin — Nicoletta Frigerio – Lucilla Giovanninetti — Akis Goumas — Nicola Heidemann — Mara Irsara — Marilena Karagkiozi — SunYoung Kim — Saerom Kong –  Mirna Korolkovas — Heng Lee — Ria Lins — Chiara Lucato –  Gigi Mariani — Mineri Matsuura — Viktoria Münzker — Daria Olejniczak — Esther Ortiz – Liana Pattihis — Mabel Pena — Paola Perez — Poppy Porter — Stefano Rossi — Stenia Scarselli — Sergio e Stefano Spivach — Claudia Steiner — Andrea Vaggione — Barbara Uderzo
Clara del Papa 2016
 Gigi Mariani, Rust II Ring, 2011, silver, patina, oxidization
Sergio Spivach and Stefano Spivach 2016 – opal ring
Sébastien Carré - ring
Heng Lee  2016
Akis Goumas « Spirits of a Symposium, remnants of red wine » collana, necklace argento, rame, pvc, acciaio, tecniche miste, filati, pigmenti silver, copper, pvc, steel, mixed techniques, threads, pigments, cm 32 x 14 x 7
Alina Carp - Unthamed – spilla, brooch 2016 argento, keumboo con oro 24k e patina, ottone, resina, pigmento, foglia d'oro silver, patina and 24k gold keumboo, brass mesh, resin, pigment, gold leaf
Miriam Mirna Korolkovas 2016 neckpiece
Viktoria Münzker 2016
Susanna Baldacci 2016 - brooch
Sun Young Kim – Theme and variation, brooch, 2016  sterling silver, blackened silver
Nicola Heidemann 2016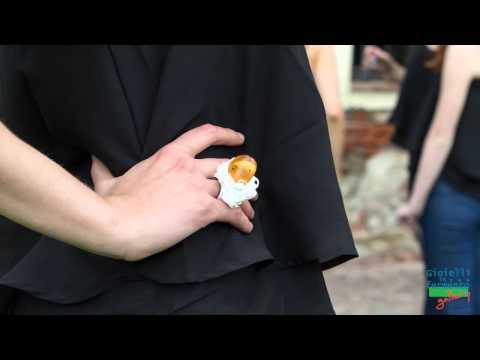 SOFA Chicago 2016
Navy Pier Festival Hall
Chicago IL.
Nov.4-6  2016
Opening Night Nov.3
Enregistrer