Ute van der PLAATS
have been selected to participate in the 2017 spring edition of LOOT: Mad About Jewelry at the Museum of Arts and Design in New York. From April 4 through 8, 2017
'LOOT: Mad About Jewelry' Returns this Spring with 54 Artists from 21 Countries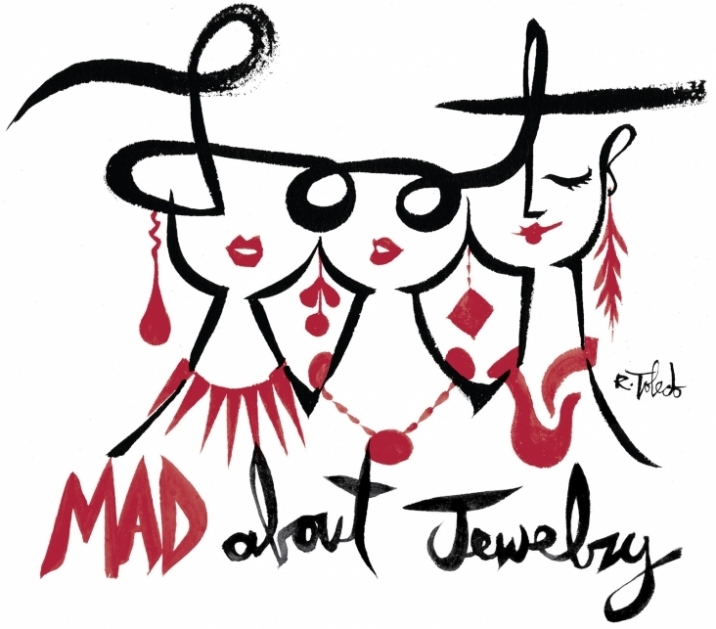 From April 4 through 8, 2017, the Museum of Arts and Design (MAD) presents LOOT: MAD About Jewelry, the annual exhibition and sale of contemporary art jewelry. Now in its 17th edition, LOOT presents a cross-section of the most exciting cutting-edge art jewelry designs, while offering the public a rare opportunity to meet and acquire pieces directly from some of the most skilled creators in the field. A striking example of the evolving possibilities of jewelry as an art form, LOOT: MAD About Jewelry champions the vision and craftsmanship of outstanding art jewelers—most of whom have never before shown work in the United States.
This year's edition welcomes 54 artists from 21 countries, the majority of whom have never been shown in New York. All were selected by Bryna Pomp following a full year of travel and research. For the first time, LOOT will feature three artists from Iceland and one from Romania. There will also be artists from Argentina (1), Austria (2), Belgium (1), Canada (1), Denmark (3), Finland (2), France (5), Germany (4), Greece (2), Holland (1), Israel (1), Italy (5), Korea (2), Norway (1), Portugal (1), Spain (2), United Kingdom (10), and United States (6). [.....]

The 2017 presentation includes driftwood, neoprene, marble, sheer plywood, textiles, ceramic, aluminum, beading, and acrylic. A significant trend this year is the use of recycled materials, including china tableware, plastic bottles and shopping bags, and even skateboards."
This year, over two dozen artists have designed jewelry using natural forms as their subjects. Artists showcasing their nature-inspired designs include Hebe Argentieri (Argentina); Katharina Eder (Austria); Ute van der Plaats (Belgium); Aino Favén (Finland); Silke Lazarević (Germany); Guðbjörg Ingvarsdóttir (Iceland); Mario Salvucci (Italy); Sowon Joo (Korea); Sunyoung Kim (Korea); Åse-Marit Thorbjørnsrud (Norway); Raluca Buzura (Romania); Ana Hagopian (Spain); Jane Adam (UK); Jacqueline Clarke (UK); Olivia Creber (UK); and Iradj Moini (USA). Visitors will meet Finnish artist Inni Pärnänen, who makes floral designs using sheer plywood, and English artist Rie Taniguchi, whose jewelry depicts animals and birds. Fellow English jewelry artist Olivia Creber uses molten metal with minerals, while French artist Delphine Nardin uses sea glass, gold, and silver to design jewelry inspired by the ocean. And Icelandic artist Helga Mogensen uses driftwood and visible threads to create unique statement necklaces. »
THE LOOT ACQUISITION PRIZE
Awarded by a jury, the LOOT Acquisition Prize seeks to recognize a LOOT jewelry artist whose work reflects a maturity in artistry and concept; exhibits both a superior and experimental understanding of materials and form; and demonstrates expertise in technique and execution. The 2017 jury is chaired by William and Mildred Lasdon Chief Curator Shannon R. Stratton, Assistant Curator Barbara Paris Gifford, and LOOT Curator Bryna Pomp. The 2017 LOOT Acquisition Prize will be awarded on April 3 at the Opening Benefit dinner.
2017 LOOT ARTISTS (click to see more pictures):

« Born in Germany and based in Brussels, Belgium, Ute van der Plaats has worked as a jewelry designer since 2009. In addition to contemporary jewelry, she has a passion for graphic design and ceramics, and her latest collection combines these three disciplines. A few years ago, she discovered porcelain—the white gold—and fell in love with it. Since then, this pure material has become the starting point in the creation process of her jewelry collections. She is attracted by its translucent white color, the fragile appearance that belies a surprisingly solid character, and the almost sensual texture of unglazed porcelain. By integrating different materials, such as 3D-printed ornaments and digitally designed images, into handcrafted porcelain creations, she translates traditional jewelry concepts into contemporary pieces. «
Ute van der Plaats - add a little of blue ….. fevr 2017
Ute van der Plaats – add a little of blue ….. fevr 2017
ARTIST HIGHLIGHTS :

Museum of Arts and Design (MAD Museum)
Jerome and Simona Chazen Building / 2 Columbus Circle /
New York, NY 10019
(212) 299-7777
EXHIBITION AND SALE HOURS
Tuesday, April 4: 10 am to 7 pm
Wednesday, April 5: 10 am to 8 pm
Thursday, April 6: 10 am to 9 pm
Friday, April 7: 10 am to 6 pm
Saturday, April 8: 10 am to 6 pm
Entrance is free with Museum admission.
For questions regarding LOOT 2017, please call Rebekka Grossman at 212.299.7712 or email rebekka.grossman@madmuseum.org.
Enregistrer
Enregistrer