De septembre 2013 à mars 2014
CORPUS 7, Rétro-projective
 Le bijou contemporain au regard de la collection Maciet
du 19 septembre au 24 décembre 2013
Le 18 septembre, vernissage Corpus à la Bibliothèque des Arts Décoratifs
Working on a great project with « Corpus » (french group of contemporary jewelry artists) in collaboration with the Musée des Arts Décoratifs in Paris  (Library/Collection Maciet)
« The project is called « Rétro-Projective » . Each artist will show two pieces: one, created in the past, will be presented in relation with one image from the million images of the Maciet collection. The other piece will be directly and very freely inspired by the collection itself: either an image, or any aspect of the collection catalogues. A particularly exciting approach. » Christophe Burger
Pour « Rétro-Projective », chaque artiste de Corpus montrera deux pièces en perspective avec la collection Maciet, oeuvre titanesque initiée par Jules Maciet au XIXè.
Une pièce déjà existante sera mise en rapport avec une parmi le million d'images présentes dans les quelques 5000 catalogues et une autre pièce sera directement mais très librement inspirée par la collection, formellement ou conceptuellement.
A partir de la collection Maciet, encyclopédie d'un million d'images, conçue pour la Bibliothèque en 1887 comme source d'inspiration pour les artistes et les artisans, l'association Corpus mettra en perspective bijoux contemporains et images de la collection (rétro), ainsi que des créations nouvelles inspirées par ces documents (projective)
Cathy Abrial
– 
Brune Boyer
—
Christophe Burger
— Véronique Buri — Olivier Daunay — Marie Debourge —
Florence Lehmann
—
Astrid Meyer
—
Suzanne Otwell-Nègre
–  Maud Rottier
Christophe Burger – « Jewelry & the Sacred »  « The Threshold »  Bracelet  Sandblasted Glass  Japanese Paper   Aluminium
Christophe Burger / Broche / 2013 / Argent patiné, Maillechort / env. 13 x 4,5 cm
Brune Boyer  – Allégorie – Alliage métal, émeraude sur pegmatite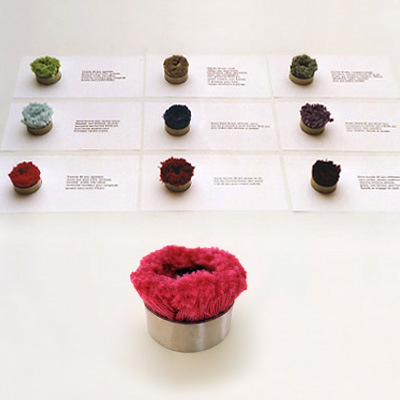 Cathy Abrial – bagues poilues 2002
Véronique Buri – « coeur d'illusion » broche et support.  citron, métal blanc,plexi.
À partir et au-delà du corps l'exploration d'une intimité. À l'origine un travail qui s'adaptait au corps, quelque chose comme un bijou, un drôle de bijou tout de même, pour finir par s'échapper du corps et s'installer sur les murs, les tables, les sols… Et y revenir parfois. Cristallisation d'une pensée, d'une émotion, d'une question. La recherche des possibles à partir de presque rien, des choses du quotidien avec une vive conscience
bague Marie Debourge
Florence Lehmann
Bibliothèque des Arts Décoratifs
111, rue de Rivoli,
75001 Paris
Lundi de 13h à 19h, mardi de 10h à 19h,
du mercredi au vendredi de 10h à 18h
Jeudi 19 septembre de 10h à 21h
samedi 21 et samedi 28 septembre de 14h à 18h
entrée libre
Tél. : + 33 (0)1 44 55 59 36
www.lesartsdecoratifs.fr