Origin : The London Craft Fair
Origin is an annual showcase of original contemporary craft, bringing together 220 of the most innovative UK and international makers for 1 week. It offers a rare chance to buy directly from the makers and meet them face to face.
Origin will now take place in September during the annual London Design Festival (LDF).
Origin 2010 will relocate from Somerset House to the newly refurbished Old Spitalfields Market from the 23rd-29th September 2010. This exciting new venue in the heart of creative London and the new timing of Origin as a major presence during the London Design Festival will inject new life and a renewed sense of excitement into this highly respected, established event.
une TRES TRES belle liste d'exposants !
Ai Kawauchi (JP) - organic pieces of jewellery – stand P02
« Handmade silk accessories created by using a unique technique to produce organic pieces of jewellery. It is made from traditional silk from the town of Kiryu, Japan and natural red and black beans that are used to give the shape, form and colour to these botanical inspired feminine pieces.«
Anna Wales - blooming boa necklace - stand F27
« My jewellery is designed to create a powerful visual impact along with an enticing tactility. It focuses on the combination of felt and silver, or of oxidized silver with polished precious metals arranged to form stark contrasts or subtle transformations throughout a singular piece.«

Bea Jareño (ES) – neckpiece- oxidised silver, sponge red dyed coral - stand A11
Claire McAlister- 12 diamonds brooch-  stand K31
« In my distinctive design language I make jewellery using a unique combination of silver and dramatically coloured wood veneers. I make individual rectangular links which are assembled into complex structures of intricate geometry. The pieces, although bold and complex, are light weight and easy to wear.«
Jacqueline Cullen (UK) – Whitby JET jewelry  (brooch) -  stand P09
Jeehyun Chung (Korea) Repetition Flower bracelet, oxidised silver wire –  stand P03
« My interest in contemporary art jewellery led me to explore the aesthetic value of using non-traditional materials and resources from as varied fields as fashion, textiles when making my work. I mainly use precious metals (gold and silver) with flexible materials such as Korean silk and self-dyed elastic threads.«
Jenny Llewellyn (UK) silicone jewelry -  stand C03
« I take inspiration from the luminous colours, shapes and movement of creatures from the deep sea to create vibrant, playful pieces that move with the wearer and glow in the dark. Colour is a significant visual feature in my jewellery. By introducing the translucent qualities of silicone with bright pigments, I combine these with the shifting reflective surfaces of precious metals to convey the qualities of underwater life forms«
Anke Hennig (DE) - 'Hybrid' necklace  Cotton, rayon, monofilament and silver-  stand G19
« The underlying idea of my work is restricted to clear forms and the principle of sequences. Simple, flat braids are wound around and over themselves, to form a spiral and provide an unusual aesthetic in the third dimension. These pieces of jewellery have both appearance and a surface, making it hard to imagine their origin – a new interpretation of an ancient technique.«
Karen Bartlett (UK)-  stand K09
« Bespoke sculptural jewellery concerned with how the dynamics and perceptions of materials alter when used in an unfamiliar context, or as a visual metaphor for an underlying thought or theme through the use and juxtaposition of 'precious' and 'non precious' material including metals, gemstones & silicon rubber.«
Kathryn Partington -  stand K09
« One-off pieces of wearable decorative jewellery. Surface pattern and ornamentation is explored by utilising a diverse range of materials, including silks, bone china, silver and metals creating pieces that are extremely unique within the arena of contemporary jewellery, craft and fashion.«
Kiwon WANG (Korea) Newspaper 'Statement' Necklace in NY Times newspaper, sterling silver, pearl, and steel cable. –  stand B35
« My work is based on 'East meets West'. Everyday material meets precious by using traditional and contemporary techniques.«
« Hand made jewellery, composed from natural found objects/materials – combined with precious metals. The collections are inspired by natural organic forms and constructed elegantly and sympathetically. The designs emulate the fragility of human emotions, inviting the individual to embark on a journey of self-discovery through memories and keepsakes«
« 'Roll' and 'Bend' are themes and techniques that I use on my simple formed jewellery pieces. To give vitality I use painting effect on silver with Keumboo (Korean overlay technique) and gold leaf. I want my jewellery to be a small sculpture on your body. »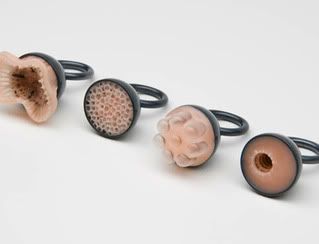 Nuntaka Nopkhun-  stand F43
« Jewellery defined by its sensorial, tactile and visual qualities that aims to be sensually pleasing to the touch, but at the same time gently disturbing in context and form.«

Stacey Bentley (UK)- textured enamel serie  –  stand K15
« I aim to explore the new possibilities and ideas that industrial liquid enamel can bring to contemporary jewellery. Urban scenery inspires my designs. By exploring unusual line and structure, texture and muted colour, I aim to generate an idea of spontaneity that reflects alternative notions of the unappreciated urban landscape«
Tania Clarke Hall  (UK) – ' Red Slash Gold' leather necklace-  stand F25
« Award winning jeweller, Tania Clarke Hall works in leather, her 'perfect creative playmate'. Having studied chemistry and jewellery, Tania designs innovative pieces inspired by the elegant solutions offered by simple geometry and a love of experimentation. Her versatile jewellery is bold and graphic, yet tactile and very wearable. »
Yoko Izawa (JP) - stand L01
« 'Veiled' jewellery combines skilful and unique creative compositions, compelling colour palettes and original techniques using elastic fine knitting combined with other materials. The designs are characterized by tactile, organic and harmonious qualities«
Old Spitalfields Market
Brushfield Street
London E1 6EW  (UK)
For all enquiries relating to Origin, please contact Tent London :
mail@originuk.org
+44 (0)20 7739 5561