« Trumpet sound ! Some time ago, the call for entries went out for 500 Felt Objects, a book slated for fall 2011 release*. After seeing Fashioning Felt, the terrific show she curated, I enlisted Susan Brown of the Cooper-Hewitt National Design Museum to serve as the juror for this book. We've been reviewing the images to include in the book, and I've come across some really exciting jewelry made with this extraordinary material!
Now, please don't think the decisions have been made for the book–we've still got a loooong way to go before selections are finalized. Just wanted to share the fascinating things some talented artists from around the globe are making. » (Larkcrafts)
* parution prévue pour l'automne 2011


Maria EIFE, a resident of the City of Brotherly Love, necklace

Justyna Truchanowska (Dublin) – necklace

Eun Yeong Jeong-  ring           –                Jennifer Moss (of Kalamazoo)

Chien-Ching Liao (Taiwan) – this piece incorporates felt so airy that light filters through

Lynda Watson (US) neckpieces :  'Eucalyptus' & 'Octopus Garden'

Kristin Mitsu Shiga

Maricha Genovese  « Under Pressure » Necklace: needle felted wool, thread, sterling silver

Maricha GENOVESE (US) – 'Felted Balls' Neckpiece – needle felted and dyed wool 

Jens A. Larsen (Norway) - necklace
SEE ALSO, for FELT / a VOIR AUSSI, pour le FEUTRE :
Wool Necklace Set – by « C'est la Chine« (from JIA SUO Collection)(to shop on Etsy)
Anna Hinkes -Wood and Felt Bracelets – 2010
Kate Ramsey – felted flowers neckpiece adornement blue – (you can buy it on Etsy at « FeltFieltroFilc« )
bracelets by 'dans mon corbillon' (Nadine Raymond) – blue serie felted bangles by « Dans mon Corbillon » (to shop at  « A little Market« )
Hanan Kedmi (design graduate of Shenkar college, tel aviv) has created a series of jewelry made from heat sink devices that are attached to computer parts which tend to get overheated
Dora Haralambaki : « my participation to the <> »

Cath Dearsley (NZ) – felt mouse pendant & jewelry
« Inspired by my furry friend Mr Nibbles, these pieces are made by needle felting wool into objects and jewellery, referencing my attraction to toy animals and childrens book illustration.
Metalwork embellishes the pieces to create the attachments for wearing on the body.  Additionally I created a series of holders for these pieces to sit on, hang or interact with, adding to their playfulness and fun. » (Cath Dearsley)

Sophie Taylor-Brockie (NZ)- necklace- Amethyst, Felt, Embroidery Cotton, Curtain Weight (on kit & caboodle)

Cèlio Braga gives form to his relections through hand-made felt, silk, cotton fabric and glass beads…

Anat Gelbard (IL) has developed her jewellery through an exhaustive exploration of felt making techniques and created beautiful understated organic pieces.

Thea Clark (US) – necklace - felted wool oxdized silver, and citrine

Cynthia Toops, felt bracelet

Vacide Erda Zimic (Perou)
Amy Klainer (US) -Laser cut 100% wool industrial felt, earth magnets

Hisano Takei (JP) – 'linked' 2006 - feutre/felt chain
Hisano Takei - felt neckpiece

GIIA (Italy) felt neckpieces (to SHOP on Etsy)


Brigit DAAMEN (NL) felt ring & necklace – she was recently featured in the exhibition "Fashioning Felt", at the Cooper-Hewitt National Design Museum. Brigit felts plastic costume jewelry with merino wool and transforms them into precious edgy neck pieces.

Karin Wagner (CH) bien sûr ! (collier 'fleurs' et collier 'bolitas')

Anna Wales (UK) – 'Blooming Boa' Necklace, oxidized silver and red felt

Meiri ISHIDA (JP) layered felt jewelry
« inner voices » Brooch, 2005 felt, silver — 'spiral city' Necklace, 2006 – felt,plastic glass,silver

Catherine Svensson (SE) « OlliesWoollies » – Woolly Bobble Punk Bracelet  & leaf necklace in blue
(to SHOP on Etsy)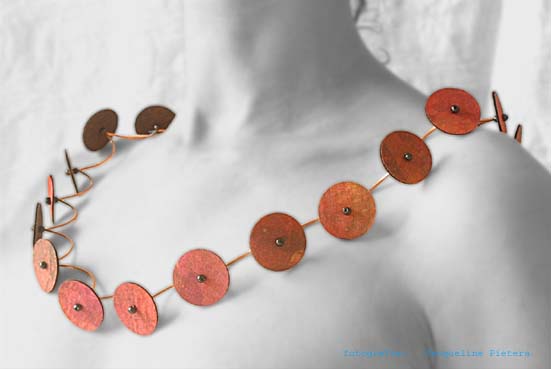 Hanneke Paumen (NL) – felt discs necklaces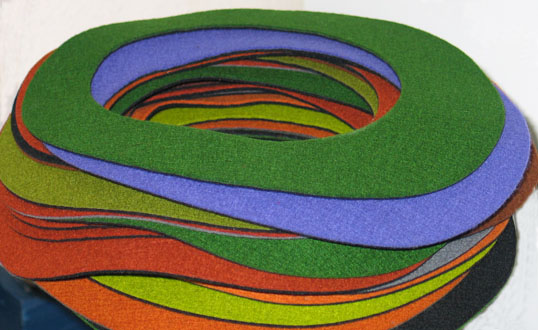 Hanneke Paumen (NL) -  felt Collar

Zorica Djukic ('3FUN' shop on Etsy) – Brown-Blue Multi Strand Felt Necklace – 'Manic Organic' (Felt Necklace or/and Bracelet)
Colleen Baran (CA) Felt Rings
Colleen Baran – Daily Recycled Rings (Ring a Day) – knot felt ring
Sabrina Bottura (IT) -  Anello/ring  'Explosion' – argento, feltro lavorato a mano

Marchi Wierson (to shop on Etsy at « Marchi made it »!)

Marchi Wierson – Big Blob Bracelet – wool felted blobs, shaped & sewn together with inner cotton liner & cuff
WOW ! more to discover on her « kit&caboodle » page

Gail Crosman Moore (US)
Lily Yung -  felt 'boa' ('Die cut' serie)

 Janine Berben (NL) – felt Rings with coral beads — 'Coral' set
HAVE A LOOK at her « new work » on Flickr !!!!

Danielle Gori-Montanelli (IT) – large 'red loopy collar' felt necklace

Danielle Gori-Montanelli (IT) – felt  'licorice' brooch (j'adore !) (to SHOP here !
)

Ellen Weiske (US) – multi-layered use of color in this necklace

Michaela Binder (DE) 
some nice FELT shops on Etsy :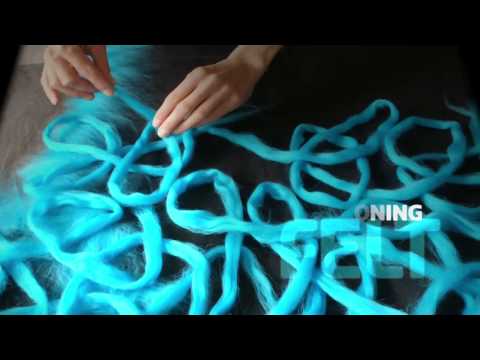 Fashioning felt exhibition
BOOK :
Felt Fashion: Couture Projects from Garments to Accessories  - Jenne Giles – Quarry Books (oct 2010) – 128pp

rose scarve (!!) from 'harlequinfeltworks' on Etsy ! (Jenne GILES)