…. ou, comme le dit si bien Monika Brugger : « bijou dématérialisé en expérience de lumière »
matériau : lumière (« light » en anglais), légéreté (« light » en anglais …), fée électricité ….
« Jewelry that explores the lucent qualities of materials. Mostly using acrylics – or perspex, plexiglass or lucite, names depending on the manufacturers –  experiments are made using neon colors and transparencies which are very adequate mediums to conduct light but as well by including electrical components that add to the already quite extraordinary forms the conceptual element of thinking jewellery as devices. « (popupuau)
« Inert 2 » by Danielle James - neon, glass, argon, blue, facet, glow, electric.
Graduate Student at East Carolina University. BFA in Metal Arts from Millersville University.
LED Jewellery designed by Dian Luo, a Jewellery Graduate at Central Saint Martins (UK) 2013
Dian Luo, a Chinese jewellery designer based in London.  Using the  light  as  the design source,  she  transforms  it  from  abstractive  element  into  a  multiplicity  of  geometric  jewellery  piece  that  plays with shadow & movement.
« Why have you choose plastic to make your jewellery? Yoolhee Ko: Because of my concept. I would like to transfer colour to my jewels and my jewels are quite big so I have to use more light weight materials… I chose plastic. Prisms have their transparency and sheerness, but at the same time when it sparkles by reflecting light, there are chromatic colours. It took me back to the visuals that are dreamy and full of fantasy. » (Dazed Digital interview)

The artist's designs resemble a prism, which at first appears transparent and singular, but reflects chromatic colors when light shines through. By embedding her own experiences and perceptions into her designs, Ko's pieces project new images through the act of reflection. Ko hopes her users will experience an equally reflective form of catharsis when they wear her designs
Margarida Matos – light jewels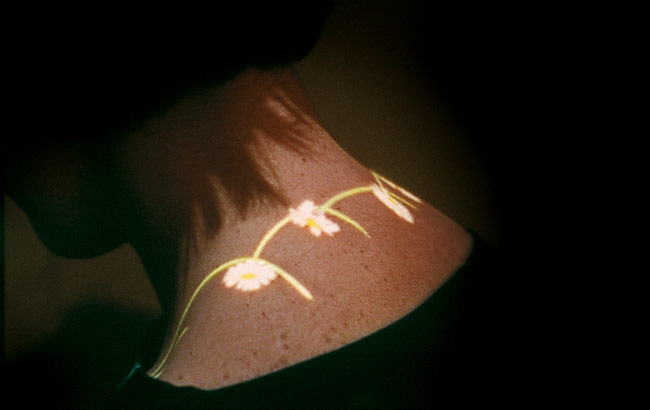 Monika Brugger-  Jeu Je – 2000 – bijou dématérialisé en expérience de lumière
–

quand la personne se déplace, le « collier » est toujours projeté sur le sol …..
Lucile Burnier (HEAD Geneve) – collection « non consigné » Marzee international graduate show 2013  
Lisa Juen Brooch: « Don't Dream It, Wear It » 2010 – Lasercut Stainless Steel, CZ, LED, LED Screen, Plastic, Cable, Light Switch, Battery Brooch/Collier Limited Edition of 6 pieces; always only one piece in: White, Blue, Pink, Yellow, Green, Purple
Aurora – Second Skin by Lighting -  by Kyeok Kim
« Aurora creates patterns of light on the body as ornamentation, extending the ornamented space around the body and restyling its decorative silhouette by motion. Aurora highlights the relationship between different pieces of jewellery, by its nature the pieces interact with the another. To operate the decorative light, one must gently move the ring (containing a magnet) towards the main jewellery piece. »
Kyeok Kim – aurora necklace – second skin by lighting – white gold plating in copper, 2 super plux leds