TRANSIT – zeitgenössischer Schmuck aus Israel 
15. März bis 3. Juni 2012 -  Schmuckmuseum Pforzheim
Die Ausstellung gibt einen Einblick in die Besonderheiten im israelischen Schmuckschaffen und die Unterschiedlichkeit zur mitteleuropäischen Schmuckszene. Es ist das erste Mal, dass eine solche Überblicksschau in Deutschland gezeigt wird. Dabei fällt auf, dass die politische Situation auch im Schmuckbereich ein vorrangiges Thema für viele Künstler ist. « Diese 'Politisierung' der Kunst ist in Israel deutlich stärker ausgeprägt als hierzulande », erläutert Kurator Jürgen Eickhoff. Bereits seit den frühen 1970er Jahren ist eine kontinuierliche Entwicklung zu beobachten, bei der jedoch die Protagonisten häufig wechseln: Es gibt kaum israelische Künstlerpersönlichkeiten im Schmuck, die über Jahrzehnte ihrem Ausdrucksmittel treu bleiben. Viele beschäftigen sich nur wenige Jahre mit Schmuck und wechseln dann in andere Disziplinen des künstlerischen Schaffens.
Die längjährige Tradition des zeitgenössischen Schmucks dokumentieren die drei Künstlerinnen der Lehrergeneration Bianca Eshel Gershuni, Vered Kaminski und Deganit Stern-Schocken. Ihr Schaffen ist weiterhin aktuell und hat einen wesentlichen Einfluss auf die junge Generation. Deren Auffassung von Schmuck und die Vielfalt der Positionen werden durch Arbeiten von 15 Absolventen deutlich. Insgesamt sind rund 200 Objekte von 18 Teilnehmern zu sehen. Kuratiert wird die Schau von Jürgen Eickhoff, der seit 1981 die Galerie Spektrum in München führt.
Schmuckkünstler
Contemporary jewelry from Israel – 18 artists from the young generation :
Shirly Bar-Amotz — Attai Chen — Maya Dekel — Anat Aboucaya Grozovski — Edda Vardimon Gudnason — Dana Hakim — Rory Hooper — Vered Kaminski — Gregory Larin — Einat Leader — Tehila Levi — Ido Noy — Michal Oren — Galya Rosenfeld — Kobi Roth — Michal Bar-On Shaish — Deganit Stern Schocken — Ella Wolf
Rory Hooper – Brosche « Antenna #2″ Eisen, Silber  2011 Foto Rory Hooper
Attai Chen – Brosche, Papier, Farbe, Holzkohle, Leim, Messing, Edelstahl,  2010, Foto Mirei Takeuchi
Deganit Stern Schocken – Halsschmuck « Figure of Speech: The Head » Edelstahl, Polystyren, Silber, Gold, Zirkone 2010 Foto Ilit Azoulay

Vered Kaminski – Sechs Broschen Silber, Stahl 2010
Edda Vardimon-Gudnason – Halsschmuck « Orange Stranger » Silber, Email, Kupfer  2011 Foto Kobi Roth
Anat Aboucaya Grozovski brooch 'Land(e)scapes' 2011
Edda Vardimon-Gudnason – Stem+vase brooches 2009 – oxidized copper, 14k gold
Dana Hakim pendent 'my four guardian angels' 2011
Schmuckmuseum Pforzheim
Schmuckmuseum Pforzheim
Jahnstraße 42,
D-75173 Pforzheim
CATALOG :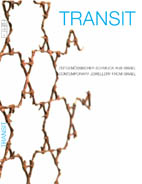 deutsch-englischer Katalog mit dem Titel « TRANSIT – zeitgenössischer Schmuck aus Israel/Contemporary Jewellery from Israel », der 176 Seiten mit 136 Abbildungen und einen Beitrag von Iris Fishof umfasst und für 18 € im Museumsshop erhältlich ist.