HIKO Mizuno College of Jewelry Graduation Works Exhibition
Found in 1966, Hiko Mizuno College of Jewelry is the only one Jewelry school in Tokyo authorized by the school education law. Hiko Mizuno has taken a form of a non-profitable organization, which is officially authorized by the Tokyo Metropolitan Government under the Law of Education. This authorization has enabled the school to receive a permit from the Ministry of Health, Labor and Welfare to provide licensed careers advice and VISA (2-year) arrangement for the overseas students.
Hiko Mizuno not only enjoys constant international visitors in jewelry and art all year around, but also invites overseas jewelry artists every year to hold summer workshops and slide lectures. The school has established long-close ties with overseas universities by exchanging students and holding joint exhibitions. Such international events are held throughout the year at Hiko Mizuno. We have a partnership with 58 schools in 16 countries all over the world. Hiko Mizuno has more than 160 students who have come from abroad.
There are four departments, Jewelry, Watch, Shoes and Bags. Each department has several courses in the program of 2–4 years.
Jewelry Department
Jewelry Design Course (2 years)
Silver Accessory Course (2 years)
Fashion Coordinator Course (2 years)
High Jewelry Course (3 years)
Fashion Art Accessory Course (3 years)
Metal Craft Course (3 years)
Silver Accessory Master Course (3 years)
Advanced Jewelry Course (4 years, Advanced Diploma program)
Jewelry Institute Course (Advanced Diploma program)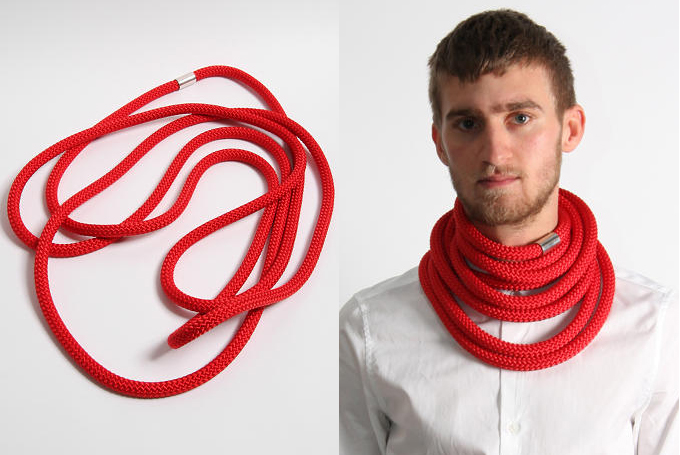 Florian Ladstaetter (Wien/Vienna) jewelry

Florian Ladstaetter   « Think Big » workshop


Bernhard Schobinger « Making a Snake bangle » workshop

Koutarou Omizo  – ring – Gold threads, deer horn

 Kenta Katakura wood rings 

Maki Kawawa – necklaces 'Little by Little, with care' – Cloth (discovered at JOYA 2010)

Katsura Sasaki – necklace 'Fruits within flesh' -Pure silver, citrus, wire – Fruit and skin used to be one object.The relationship of inside and outside was created by separating the two.The removed skin crawls around on the adbomen looking for the fruits to be newly united.

Mari Iwamoto – 'Little sea monsters' rings – plastic- 2008
HIKO Mizuno College of Jewelry Graduation Works Exhibition
Spiral Garden Aoyama
5-6-23 Minami-Aoyama, Minato-ku
107-0062 – Tokyo (Japan)
Tel : 81-3-3499-0300
website: hikohiko.jp/language/english
mail: international@jewelry.ac.jp