IGOJA, an International Group Of Jewellery Artists, is a group of jewellery artist friends.
It all began in Cologne in the studio of Marlene Gerhard, where some of us came together to work and exchange ideas ending up with an exhibition in private atmosphere at art minded friends. It was stimulating to see your colleagues working, experimenting with materials expressing their ideas, learning from one another, and also a reflection for oneself. The passion and enthusiasm, as well as the struggle, and how to manifest this in the jewellery art field is a common point of recognition. We decided to make our group internationally stronger and invited some respected colleagues to join
the group.
The represented nationalities of the six jewellery artists in IGOJA are German, Dutch, English and Portuguese. Our purpose is to share our passion, to visit inspiring places together, and to exchange in workshops and to exhibit.
Our first public presentation with the complete group will take place in Galleria Reverso in Lisbon in
September 2010. 'Serendipity, chance favours the prepared mind' was the title of this exhibition.

A brief introduction of the IGOJA members:

Marlene Gerhard, from Germany, lives and works in Cologne in an old fire-station. She is trained as a goldsmith and jewellery maker in Idar-Oberstein, which is well known for its traditional jewellery industries and precious and non precious stones. After two years of working as a contract goldsmith she was slightly disappointed by the kind of work she was expected to do and started studying law for several years. However, the moment she came into contact with some inspiring jewellery artists who introduced her to several workshops, a completely new approach towards creating jewellery, her love for what she once started was back again. Suddenly everything made sense: she started to work again with different materials to create jewellery that is typical hers. Marlene has a very monumental approach which makes her work sculptural but this monumentality has lightness by its playfulness and humour.

Marlene Gerhard – 'horror vacui' brooch – 7x7x4cm – tin foil, silver, gold, copper

Marlene Gerhard -  2 rings
Hiltje Wynia, from the Netherlands has a studio in a Frisian village, Oudemirdum. She decided on a later age to develop her creativity in this field and began her studies in the Sculpture Department of the Academy of Art in Maastricht, but found out soon that the Jewellery Department suited her better. Suited is the right word, because Hiltje has a very developed sense for textile, clothes and jewellery.  After her study she went back to her Frisian base in the north of the Netherlands where she created a series of jewellery made with and inspired by old traditional Dutch lace. Lace and the nature of the Frisian landscape, her love for gardening, all those things surrounding her makes an idea growing into her mind. Through the working process and a sometimes chaotic experimental struggle with materials the final outcome can be surprising in the end. These creative processes are what keep her love for making jewellery constantly evolving. 

Hiltje Wynia - Colar "Springdrops"

Hiltje Wynia - brooch
Suzanne Esser, from the Netherlands, has her studio in Amsterdam in a former Hospital, now used by
artists.  Suzanne grew up in an artistic surrounding; her father was sculptor and her mother a painter. She did choose for studying jewellery at the Academy of Art in Arnhem where she was taught by the famous Dutch designer Gijs Bakker. She developed a clear way of thinking and her jewellery is often based on form interventions. Her idea behind the piece is more important as its suitability as a wearable piece of jewellery but because of her love for repetition and regular rhythm her large necklaces are flexible and therefore by their very nature wearable. Her inspiration can come from elements of machinery; letting them grow as nature does; evolving into new spatial and monumental creations.

Suzanne Esser – necklace
Susan Cross from England lives and works in Edinburgh, Scotland, where she teaches in the Jewellery& Silversmith Department at Edinburgh College of Art. Susan completed her study in art and design with a degree in jewellery at Middlesex Polytechnic in London. Following her graduation she was invited to teach part-time and has since this time paralleled her own practise with teaching, thus allowing her the freedom and the so needed financial support in
this field. To be able to work alongside students she experiences is a privilege and an inspiration. Exchange programs brought her to several Asiatic countries where besides her teaching she could explore the culture. Recent inspiration from a visit to Korea include: exotic tied bundles of twisted roots to sacks full of dried flower heads and visiting temples in the wilds of the Korean mountains, she documents her travels with photography and sketches. In the studio she develops her collated research by drawing, abstracting, collage and three-dimensional models to develop and refine her jewellery.
Susan's work is as a big gesture in which you can find a resonance between her love for constructed textiles and textural details.

Susan Cross - brooch
Paula Crespo, from Portugal, has her studio behind her Galeria Reverso in Lisbon. Having the feeling to live several lives, she dedicated her soul to jewellery since the eighties, both as a gallerist and as an artist. She has a degree of the Faculdade de Letras and taught at state schools until a few years ago. She is trained as a jeweller at Ar.Co in Lisbon, where she later taught jewellery design for some years. During ten years she ran the gallery/workshop 'Arte facto 3' together with two other colleagues. In 1998 she started up a gallery of her own to follow her individual path, and Galeria Reverso was born. A gallery and a studio on one location, making national and international exhibitions, training students, giving courses and making work of her own. Paula's life is her love for art jewellery, being an important link in the development of Portuguese contemporary jewellery. In spite of her feeling to have a constant lack of time she developed her own work in an interesting way, even though it may seem she jumps over a period of time, her work has always a clear monumental construction. Her ideas 'dance' and then settle in her mind, and when it is time to come out she feels it is worth the development. Sometimes her jewellery is build up with thousands of little rings to form a flexible whole. Only
passion can be the motivation behind these achievements.

Paula Crespo – brooch

Paula Crespo  - ring

Paula Crespo – Colar Meccano-Ebonite, ónix e ouro – 2006

Birgit Laken, from the Netherlands, has her studio in the centre of Haarlem with a view on her garden. She studied drawing at the Royal Academy of Art in The Hague. Finding out that the direct way of expressing in drawing and painting was not the right way for her, she decided to do a second art study on the Gerrit Rietveld Academy in Amsterdam to become a jewellery artist. Working with metal and other materials required a complete different approach, having an idea, making a plan first, finding out how to treat the material, that indirect way of expressing enabled her to channel and express her passion. Being a spontaneous character she is always in search of balance which is reflected in her jewellery. Her work can be very clear, restrained and sober, but also it can be playful, particularly when expressed through colour. Birgit often develops her work through a themed project which can evolve and grow over a period of time; this takes her to a deeper understanding of the source that inspired her.

Birgit Laken- Necklace/object  1996- wood, leave gold, acrylic paint, synthetic material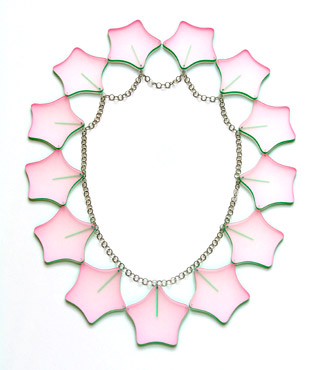 Birgit Laken- Necklace 'Hoya Camosa' acrylic sheet and silver 2007