Mel MILLER, contemporary jeweller based in Melbourne
« I completed a Master of Arts in Gold and Silversmithing at RMIT University, Melbourne, Australia in 2009, and a Bachelor of Fine Arts (Metalsmithing) at Arizona State University, USA in 2004. My work has been exhibited nationally and internationally including at the renowned international exhibition of emerging artists 'Talente' in Munich, 2011, and in 'Jewellery Topos' touring to Galerie Marzee, the Netherlands and Gallery Loupe, USA during 2009-11.
I'm interested in the luminosity, colour and texture of materials usually regarded as mundane, and the transformation of materials and the stories they tell. My work explores transformations of landscapes into jewellery with an Impressionist concern for colour and light, as well as the transformative effects of memory and the tradition of storytelling. Background becomes foreground; the recollected story becomes history; the mundane becomes magical!
You can also find my work at Arbor Jewels in Melbourne and Studio 20/17 in Sydney. »

 'Fleming Park (autumn, evening)' – Brooch featured in Talente 2011, Munich -  sterling silver, bouncy balls, Mexican opal, felted wool   – COUP DE COEUR !!


'The View from St Philip (summer, sunset)' – Brooch featured in Talente 2011, Munich -  sterling silver, bouncy balls, felted wool, enamel paint
'Foggy Day in Parkville (winter, clearing)' – Brooch featured in 'Australian Jewellery TOPOS' (Gallery Loupe, USA, 2011) – sterling silver, enamel, copper, bouncy balls, labradorite, felted wool

 Bounce ! – new pendants from the Bounce! series, available at Studio 20/17 in Sydney and Arbor Jewels in Melbourne – sterling silver, bouncy balls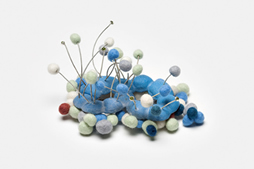 (from 'Metamorphosis' exhibition)
soon, to SHOP on Etsy !