une petite sélection, seulement, en butinant deci delà …..

'Ramjuly'  (Emanuela Deyanova & Antoaneta Petrova) – rings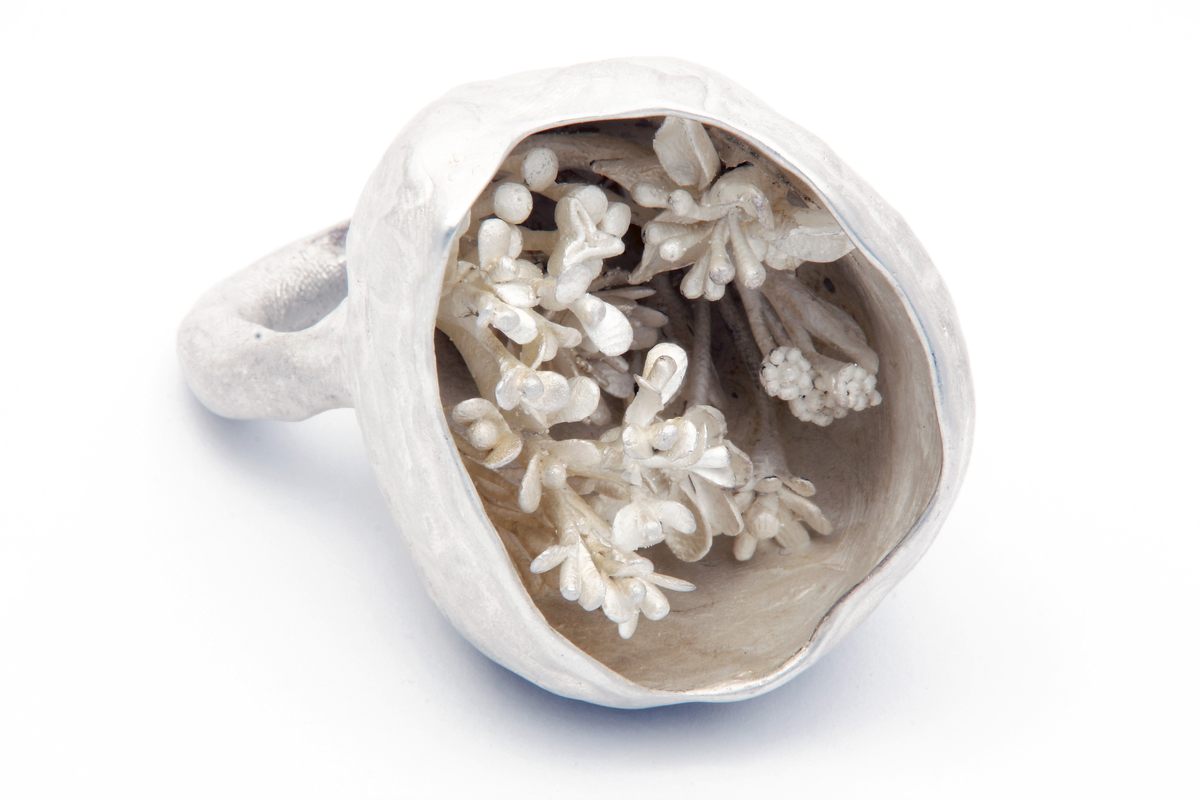 Nora Rochel - rings  (je me damnerais pour une de ses bagues !!!!)

Karin Wagner - felt « poppy » ring

Suzanne Klemm

Michelle Pujol - blackened lotus ring – silver copper pearls side

Michelle Pujol - bell flower ring

Andrea Wagner – « moonlight roof garden rendezvous » – « jardin interieur » serie 2006- mixed media, bone china porcelain

Ute Kolar (Austrian living in Italy) – anello bosco 2009

Ute Kolar- anello fiore 2007

Patricia LEMAIRE - La-Passion-II – objet de curiosité – bague à poser – maillechort, argent, pince de crabe, pics d'oursin, nacre, quartz rose

Rossella Tornquist

David Neale

Sarah HOOD – Winter Tree Ring – Landscape Sample Rings

Kay Eppi Nölke     www.ep-ep.de  - Grass rings -  grass, iron, stainless steel, silver, gold

Kay Eppi Nölke - Rings from the "DrückDich" series. Stainless steel, gold  (http://artaurea.com/magazin/336-lasting-memories)

Sabrina Meyns

Aline Kokinopoulos – bague liseron – argent

Dongchun Lee (has exhibited at « 200 RINGS » exhibition at Velvet da Vinci Gallery)

Katalin Jermakov - Hungary

Jennifer LAIDLAW ring – 'Finger symbols' expo 2010

Alidra Alic

Moira K. Lime

Allison Fomich (US) of tigerlillyshop (on Etsy)

Katherine Wheeler (AU) urchin ring

Marian Sturkenboom (NL) 'perfect day' – reap-ring-berry ring – gold, resin

Grainne Morton

Claude Schmitz – 'le jardin de la Comtesse de Taiwan' ring

Liisa Hashimoto

Zhao Li  (Sint-Lucas in Antwerp)

Jennifer Stenhouse – Caged bird ring


Kathleen Brughelli (US) – A Bird on the Hand Ring   http://www.eamonellery.com

« talitali » (Belgium's Zhao Li) – « Finding Neverland » rings in silver, textiles and medical-grade plastic by

Anluz Joyas – botanical rings – Argentina's Anluz (Anne Luz Castellanos) mainly works with silver & enamel. 

ring by Carol Kingsbury Gwizdak

Eva Maisch   www.eva-maisch-schmuck.de  porcelain ring 750 yellow gold and KPM porcelain

Luzia Vogt- Porcelain and silver rings

GUALTI (italy)

Cynthia Toops -polymer-ring

Carrie Garrott Delphinium Ring, delphinium blooms, beeswax, sterling silver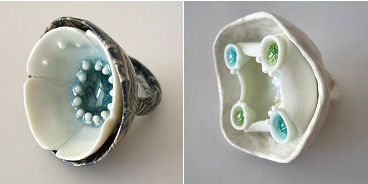 Anne Perbet – rings made of porcelain, paper and glass

Ana Hagopian – paper rings

Heng Lee – flowers of the field 

Moira K. Lime- Flammulina Ring -sterling silver, hand dyed soy silk and polyurethane plastic
http://www.moiraklime.blogspot.com

Tithi Kutchamuch loves flowers, but she would rather see them growing in the garden, so her vases are for wearable flowers, or rings, instead – Vase Garden is a set of simple, clear glass vases that were created to hold silver flower rings also of Kutchamuch's design.

Tithi Kutchamuch- As she puts it, « The flowers complete the vases, in the same way the ring completes the wearer