le DIY (DO-IT-YOURSELF) qui n'y a pas succombé au moins une fois, moi la première ?
Dans l'idée que « ça coutera moins cher », que « y'a qu'à… », que « c'est moi qui l'a fait ! » …..
Alors oui, on vole l'idée du créateur, on l'empêche de gagner sa vie …. et puis, point positif, on réalise que … eh bien, ce n'est pas si facile que ça …. et c'est là où l'on peut réaliser que le bijou « pas en or », « de fantaisie », eh bien il prend du temps à faire (ce qui peut expliquer son prix parfois), il y a des techniques, « quand même », un coup de main à prendre/apprendre, un « twist », que les finitions, ça compte (et comment donc !), etc etc ….. C'est peut-être une des meilleures façons de le découvrir et de découvrir que oui, un bijou en papier, par exemple, peut être CHER ! …..
Certains créateurs « succombent » à ce flux massif de copie : je pense, entre autres, aux bijoux en boutons que faisait Zoé Cotlenko …… qu'est-ce que cela a été copié !!!! avec plus ou moins de bonheur, de qualité, mais elle, elle a « disparu » !
Zoé Cotlenko - pièce unique 2002 – plastron parure tintinnabulant et réjouissant !
Aux bijoux en épingle à nourrice de Marie-Lise GOËLO : les siens avaient de la « force », particulièrement quand les épingles étaient nues. Quand elle a commencé à les habiller de perles de cristal, je pense que ça a été le début de la fin : à mon goût moins « forts », plus… « jolis », plus « mignons », et tout de suite copiés à l'infini ….

Marie-Lise GOËLO - mon bracelet « hérisson »
  Marie-lise Goëlo – mon bracelet « moebius » 
Marie-lise Goëlo – mon bracelet « moebius »  porté
et l'ajout de « petites perles » annonce toute la « copie » à venir, comme ce bracelet :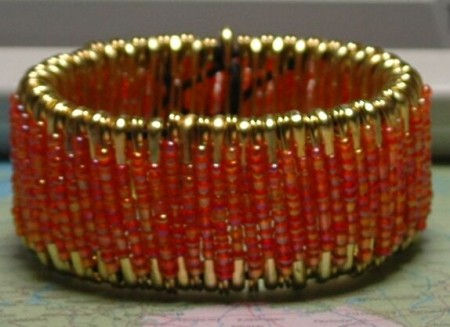 gentil, joli, pas laid, mais sans aucune « force » (en tout cas pour moi) ……
pas comme mon bracelet  « nu » de Marie-Lise Goelo !!!
En ce moment, copies à tout va des bijoux en fermeture éclair de Kate Cusack.
Voir « Etsy », lieu de vente, mais aussi haut-lieu de la copie, enfin, du DIY …… pour les bijoux en « zip », c'est un déchainement ! voir cette page !
Kate Cusack - Zipper Jewelry
(voir article  zipper jewelry by Kate CUSACK …. zip zip hourra ! …. & Zoé COTLENKO)
le top du DIY est ce mode d'emploi (tutorial) pour faire, il faut l'avouer, un SPLENDIDE plastron tout en zips !!

le collier-plastron de OUTSAPOP

vous suivez le mouvement ????????
  – dos du collier

devant du collier  - quand à ce stade elle dit « il faut le détacher pour l'essayer avant de le coudre … » euh …. oui !!!!
là, le « y'a qu'a » en prend un sale coup …..
Et puis, certains créateurs devancent le « DIY » versus copie ….. et proposent leurs créations …. à faire vous-même ! malin ! vous payez ET vous faites !

Anni ALBERS DIY washers-ribbon jewelry kit Anni Albers. 1940.  Anti-luxury jewelry. Necklace made of washers and grosgrain ribbon (it was sold in a « DIY satchel »)
UrbanOutfitters propone questi kit di DIY (do it yourself) per realizzare gioielli ispirati a quelli della celebre designer Anni Albers. In questo caso con dei semplici anellini di metallo ed un nastro il risultato è sorprendente
(moi je l'ai acheté au 107-Rivoli …. l'ont-ils encore ??)
Anni Albers kit
« The Anni Albers Jewelry Studio Kits from the Josef and Anni Albers Foundation are based on original pieces from the 1940s. Made in the United States, the do-it-yourself packages—available at Urban Outfitters and the MoMA Store—contain all the components necessary to make your own Albers reproduction for less than $15″
Il va sans dire que le monde du DIY est vaste, et peut atteindre des niveaux de « cul-cuterie » intenses !!!!!!
Enregistrer
Enregistrer