Tota Reciclados – Marcela Muñiz  & Valeria Hasse
We reuse materials and objects trying not to be nostalgic, to emphasize the mixture, in order to create jewels to be worn. Instead of traditional jewelry techniques we work assembling different elements using wire and threads, closer to the idea of provisory rather than eternal.
This project begun out of the interest of designing and creating new objects from collected, inherited and found objects, in the context of a huge economical crisis in Argentina in December 2001. Working only with material available in the surroundings became the starting point of the creative process, using discarded things to comment on the cultural world where we come from. Recovering and transforming objects into jewels carries many references to this world, through the process of recombining and recontextualizing objects, images, techiques and ideas.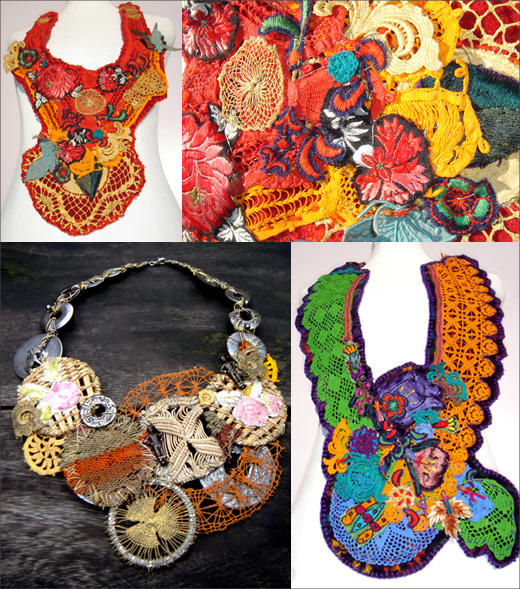 Recycling for us involves notions of assambling, recombining, including chance, serendipity, mistakes, failures, improvisation, fragmentary and hybrid. It expresses the limitation of resources through the creation of new meanings with unlimited posibilities.
As a team of two people working together, we also deal with issues of collaboration and authorship in the creative process, that we see connected with the ideas of assambling, collaging and mixing, so related to our cultural background.
WOW !!! coup de coeur ! explosion de couleurs ! BONHEUR !
ESTUPENDO !!
Tota Reciclados
Costa Rica 4684 taller 5
1414 – Buenos Aires
Argentina
Telephone: 0054 11 4831 4684
http://www.totareciclados.com.ar/
mail: info@totareciclados.com.ar
mail: marcelamuniz@totareciclados.com.ar
mail: valeriahasse@totareciclados.com.ar