Je passe mon temps à osciller entre « céramique » et « porcelaine » …..
on a beau me le dire et redire ….. alors … merci wikipedia (après Violaine Ulmer et tant d'autres qui me l'ont si bien et si patiemment expliqué ……) : « La porcelaine est une céramique fine et translucide produite à partir du kaolin par cuisson à plus de 1200°. Elle est majoritairement utilisée dans les arts de la table »  ………..
pour plus approfondi que Wikipedia … : on peut aller voir le site de la Société Française de Céramique, Céramique.com, le site de Sèvres Sèvres Cité Céramique, Le Pôle Européen de la Céramique (CeramEurop), le European Ceramic Workcentre (Europees Keramisch werkcentrum- EKWC) (NL), et, en anglais …. get ANSWERS about ceramics here !
* Violaine ULMER (FR) – bijoux de porcelaine

Violaine Ulmer - bagues – porcelaine et « granulations » d'argent

Violaine Ulmer - bagues – on a envie de toutes, les douces, les rondes, les lisses, les granuleuses, les blanches, les noires …….. aaahhh!!! 
Alors quand elle est venue me voir, à Collioure, et qu'à une table de café, devant la mer, elle a ouvert une boite avec toutes ses bagues ………… j'étais comme une gosse devant une malle aux trésors !!!!

Violaine Ulmer - bagues « diamants »

Violaine Ulmer -bague – ligne « galets »

Violaine Ulmer - collier plastron acier, porcelaine, caoutchouc


Violaine Ulmer -Collier 'Petit Bruit' – le bruit de l'absence/présence, capté dans un collier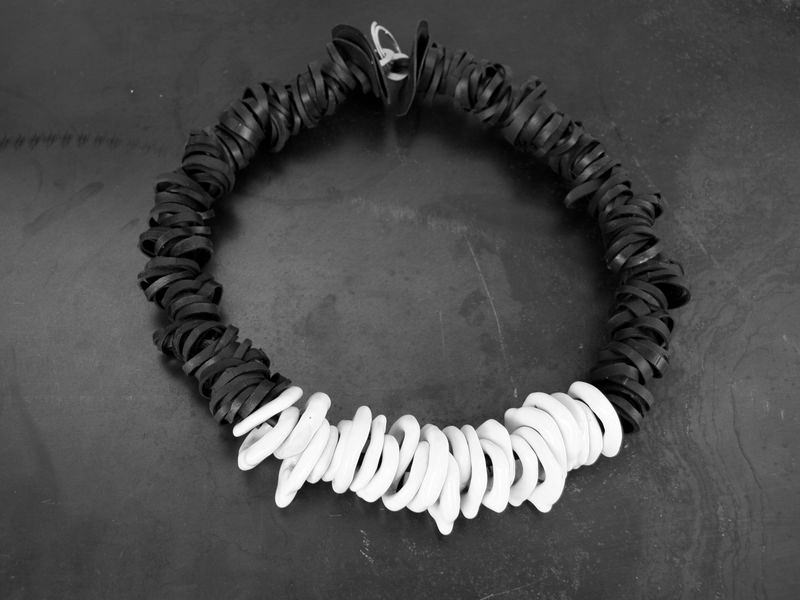 Violaine Ulmer - collier

* Edith BELLOD (FR)

Edith Bellod – Bagues en porcelaine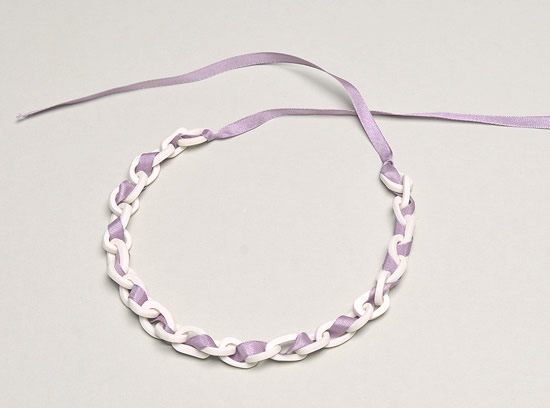 Edith Bellod porcelain necklace (born in France, lives and works in Berlin)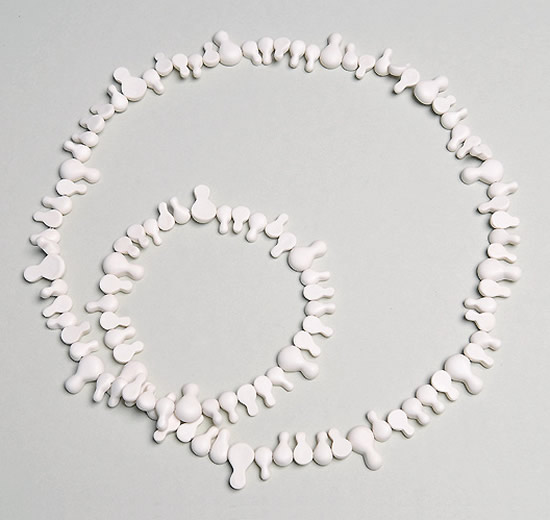 Edith Bellod – colliers en porcelaine de limoges : "kaléidoscope" (en haut)  et "goutelettes" (en bas)
* Trinidad CONTRERAS (ES)' porcelain and silver jewelry – calm & order….
qui parlait déjà de « Luxe, calme et volupté » ? juste Matisse et Baudelaire ……
« …Là, tout n'est qu'ordre et beauté,
Luxe, calme et volupté… » (« L'invitation au voyage« , Charles Baudelaire)

Trinidad Contreras Brooch

Trinidad Contreras   tubular brooch

Trinidad Contreras brooch
« Contreras is drawn to the simple, the familiar, the roundness of things, explaining that it makes her reflect on "what can exist within a sensual and harmonious world. A world where time passes by slowly, but in a vital and ephemeral way, in a constant circular motion of "creation-destruction."  «
* Pilar COTTER (ES) porcelain jewels – the 2011 collection

Pilar Cotter- Earrings, porcelain, oxidized silver

Pilar Cotter-Pendiente (earrings) , porcelana.

Pilar Cotter- ring , porcelana negra.

Pilar Cotter-  collar/necklace – porcelana y plata – 2006

Pilar Cotter-Pendientes / earrings – Porcelana-plata.
* Joyas de la colección 'La hora del té', de María  Lasarga (ES) - Problema : muy bonito el resultado pero ……………. EXACTAMENTE lo mismo de lo que hace Gesine HACKENBERG !!!

María  Lasarga- Plata 925 · Porcelana Japonesa.

María  Lasarga- « Willow » plate & earrings

Gesine HACKENBERG ceramic jewelry


Gesine HACKENBERG turquoise earrings

Gesine HACKENBERG
* Ceramic Jewelry by Hana KARIM (Slovenia)

Hana Karim – turquoise brooches

Hana Karim collier « craquelé »
j'essaye de »résister » à ses « rouges » 'déjà présentés dans un post (COUP de ROUGE ! Ceramic jewelry by Hana Karim)…) mais impossible  (de résister), trop beaux !

Hana Karim – necklace

Hana Karim-  rings of fire

et allez contempler ces deux-là sur sa page Facebook !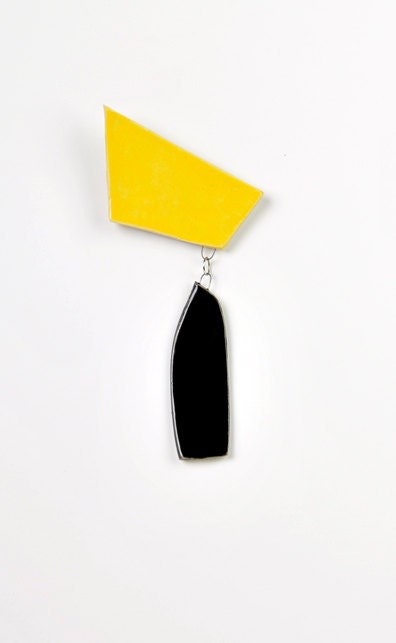 ceramic brooch in black & yellow on her Etsy shop !

* ceramic jewellery Dora HARALAMBAKI (Greece)
« Earth with water, dry on air and bake with fire ! » ! comme pour une recette de gâteau ….. d'ailleurs, ses bijoux me font penser à des bonbons …..

Dora Haralambaki  « candy » rings
Dora Haralambaki  Ring Earthenware clay with underglaze stains 2009

Dora Haralambaki - earthenweare clay rings with colour glazes
Dora Haralambaki - Ring – Earthenware clay with underglaze stains 2009
Dora Haralambaki – Ring Earthenware clay with underglaze stains 2009

Dora Haralambaki (Greece) – ceramic jewellery

  Dora Haralambaki ceramic jewellery
* Nicole BARTH, qui travaille souvent la porcelaine mêlée au feutre

Nicole Barth – collier « paillettes » porcelaine 

Nicole Barth – bagues « design » – faience, porcelaine

Nicole Barth – collier « cercle » en porcelaine 
* MANUGANDA / Manuela GANDINI – GUIDO DE ZAN >>> porcelain experiments

Manuela Gandini – 'MACCHIE' collana porcellana bianca e smaltata nera, argento 925, pelle
* Roberta FERREIRA – Dterra Gallery (ES) – Contemporary Ceramics and Art Jewelry
voir aussi leur blog http://www.dterrablog.blogspot.com
« dterra was founded in 2001 as a workshop-gallery where Roberta FERREIRA and Laura Jener could develop their artistic careers in the field of jewellery and pottery. Thanks to the collaboration of Cristina Villar, in 2010 dterra was finallly established as a gallery specialized in contemporary jewelry. The gallery also offers courses and artistic events that help to spread artists' creations and allow the audience to approach the world of contemporary jewelry. »

Dterra ( Roberta Ferreira &  Laura Jener) bagues « vase »

Roberta Ferreira – bague « vase »

Roberta Ferreira – Aigua: tresor – porcelain brooch
voir aussi expo/articles :
 (Participating Artists:
Sebastian Buescher, Peter Hoogeboom, Pilar Cotter Nunez, Jet Mous, Rian de Jong, Evert Nijland, Iris Eichenberg, Karin Seufert, David Elliott, Andrea Wagner, Ford & Forlano, Gaby Wandscher, Caroline Gore, Pauline Wiertz, Maria Hees, Shu-Lin WU)

Peter Hoogeboom ceramic jewelry

Peter Hoogeboom rings

Peter Hoogeboom – broche 'Peony'

Caroline Gore "cookies from Odet" Porcelain bracelets

Jet Mous (NL) – Porcelain rings

Iris Eichenberg White Brooch

Evert Nijland – Brooch, Rococo, 2010 - porcelain, silver, steel

Evert Nijland -  white porcelain necklace  

Shu-Lin Wu – brooch

David Elliott (CA) porcelain bead necklace with silver
et celle-ci, que j'ADORE ! :

Marie Pendaries (FR) 'la dot' – 28 pieces en porcelaine
(voir l'article/expo  EXPO 'Un peu de terre sur la peau' – FONDATION BERNARDAUD, Limoges (FR) – 16 juin-16 oct 2010)
et enfin voir l'article/expo  EXPO 'Bijoux de Porcelaine, et plus…' – Galerie Helène Porée, Paris (FR) – 7 mai-5 juin 2010

Marion DELARUE - collier Empreintes (mon grand favori !)


Hildur ÝR  (Islande) – ceramic necklace

Terhi Tolvanen
* Marion VIDAL
« Diplômée de l'Académie Royale des Beaux-Arts d'Anvers en Mode, elle crée sa société en mai 2006 et se consacre rapidement aux seuls accessoires. Elle dessine parures, plastrons, encolures, bijoux de corps. Elle conçoit le bijou comme partie intégrante de la silhouette.
La céramique émaillée reste le fil rouge de ses collections, mais elle se passionne avant tout pour les matières nobles, et pour le dialogue entre les matières. »

Fanny Acquart-Gensollen - porcelain necklace

Fanny Acquart-Gensollen

Anne Perbet – porcelain, paper and glass rings 

Claire Marfisi – sautoir « boa » en céramique