Barbara Stutman specializes in textile techniques such as weaving, knitting and crocheting using metal wire. Since 1982 her innovative jewellery has been exhibited widely in galleries and museums in Canada and the United States, Europe and Asia; it has been published in numerous art journals, catalogues and books. Her work is in the permanent collections of the Museum of Arts and Design New York City, the Montreal Museum of Fine Arts, Le Musée du Québec and the Koch Ring Collection in Switzerland.

'Empty Bezel' Neckpiece 7, silver, colored copper wire and magnet, 2007

'It's a girl!' , Ring, 6.5 x 3.6 x 2.5 cm, 22k, silver, colored copper wire, crochet

'Ruby reds, for a Maharajah, Collier royale' R13,  silver, colored copper wire, seed bead and magnet.

'Diamond duo, for a Maharajah, Royal Bracelet' R38, vinyle, seed beads – crocheted
(on « Visual Arts Center« , Quebec)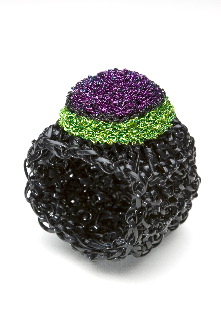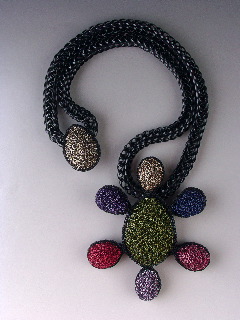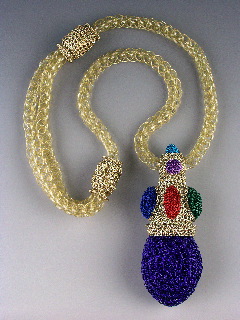 collier en argent fin, cuivre coloré, verre, perles, aimant (galerie Noel Guyomarc'h)